The Nevada
Travel Network
Recommended
Lodgings
You are currently browsing our old Booking Engine, to visit our new booking engine Click Here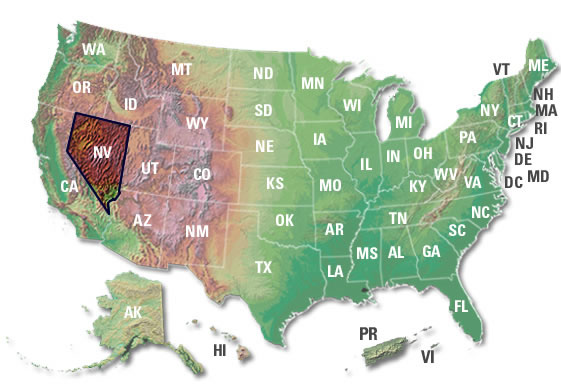 Your guide to travel to and from Nevada in the United States of America
Nevada Territory was split off the west side of Utah Territory in 1861 and admitted to the Union as the 36th state in 1864. The Civil War was raging at that time, and by signing the Statehood documents on October 31, President Lincoln secured the gold and silver wealth of the Comstock Lode for the Union and two Republican votes in the Senate for himself.
By virtue of its relative isolation, largely contained within the Great Basin and with no rivers to the sea, Nevada developed slowly. As the mines slowed and failed, the population fell to fewer than 40,000 statewide, and by the turn of the 20th century there was talk of rescinding statehood for Nevada.
But new precious metals discoveries in the central and southern part of the state brought a new rush of energy and vitality that carried through the first decade of the new century. The men who had come to prominence and power left Tonopah, most of them migrating north to Reno, a few to the dusty little railroad town of Las Vegas, where there was talk of building a Dam across the Colorado River at Black Canyon.
Another dozen years and the dam was built, the largest man-made object on earth. Boulder City was designed and constructed as government housing for the work force and Las Vegas burst its boundaries as the volume of dam-related freight increased to a daily avalanche.
By then 24-hour casino gambling was legal, and divorces could be had in six weeks. Nevada was trying to codify its free and easy frontier attitude of "Live and Let Live". World War II changed Nevada in many ways large and small, including the elevation of casino gambling into an industry. "Harolds Club or Bust" signs were planted all over the world with a big arrow pointing toward Reno, and Bugsy Seigel gave the Mob a beach-head in Las Vegas.
And suddenly the state that boasted of having "One Square Man for Every Square Mile" had a million people and growing, and Nevada slowly and reluctantly gave up most of its rough frontier ways, at least in the cities. Now two-thirds of the state's population lives in the Las Vegas Valley, and most of the rest is concentrated in the Reno-Lake Tahoe-Carson City nexus. That leaves the great majority of the state as wide open spaces, which is just the way we like it.
Today Nevada is straining to reinvent itself in modern terms, showing promise in solar energy generation and experimenting with wind generation as well. It is still a small state in terms of population, but because of its maverick history it is still the most interesting state in America.
---