The settlement depended for its prosperity on the railroad, and on the mines that blossomed and wilted along the slopes and side canyons of the Reese River Valley all the way to Austin, 90 miles to the south. Galena, Jersey City and Lewis were three of Nevada's most prominent mining camps in the 1870s, all of them served by the railroad at Battle Mountain, as was Pittsburgh in the 1880s and Dean in the 1890s. After the turn of the century the mines at Hilltop, Bannock, McCoy and Betty O'Neal all shipped by way of Battle Mountain.
Battle Mountain was the last stop for W.J. Forbes, a famous Nevada newspaperman of the l9th century. He was remembered by Carson City journalist Sam Davis: "Pioneers still laugh about his quips and fancies. Writing under his pen-name Semblins he discoursed on every subject known to man, and his shafts so often hit the mark that he became popular with all classes of readers." Forbes edited and published a dozen newspapers in California and Nevada, and in 1873 started the short-lived The New Endowment in Salt Lake City. "Returning to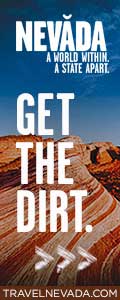 Nevada," Davis wrote, "he started Measure for Measure at Battle Mountain. It was a wonderful paper, but it did not pay, and a friend found him on the morning of October 30, 1875, lying stiff and cold across his shabby bed. He had fought a fight against all odds all his life, was one of the brightest geniuses the coast had ever seen, but he lacked the faculty of making and saving money and lived in communities where his mental brightness was more envied than appreciated."

In 1880 the Nevada Central Railroad was completed through the length of the Reese River Valley to the south, connecting Austin with the transcontinental line, and in the following year a short line was built to the mines at Lewis. One of the Nevada Central's officials was James H. Ledlie, a former Union officer in the Civil War who had disgraced himself at th Battle of the Crater outside Petersburg Virginia in the summer of 1864. A siding near the southern end of the route through Reese River Valley was named in his honor, and Ledlie was a familiar visitor to the railroad.

—