The Eureka Opera House
The Eureka Opera House is a magnificently restored example of western architecture, and a contemporary showplace for distinguished touring performers.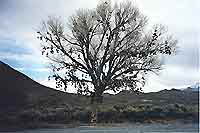 The Shoe Tree
This cottonwood tree a few miles east of Fallon has been decorated by passersby with shoes, boots, slippers, sandals, rollerblades, even ice skates, skis and snowshoes. But why?