Virginia City Revisited
---
PO Box 12 Carson City Nevada 89702 Tel—775-883-8388 Fax—775-883-5965
Home E-Mail Archive Book a Room

---
A Special Christmas Offer: Box of 10 Complete Nevada Travelers, $150 (plus tax and s/h)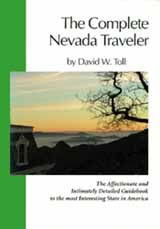 A new look at Virginia City reveals major changes brewing up in the old metropolis on the east side of Sun Mountain.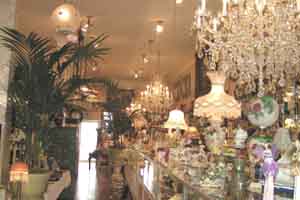 Has Virginia City lost its "carnival atmosphere"? This is the Glassblower's Workshop, glittering with exceptional (and high-priced) merchandise.

Not only have property values quadrupled in the last year, Virginia City is reinventing itself as an upscale tourism destination, not just a day trip for hot dogs and beer.

Tourism first became a factor in the raggedy old mining relic in the 1950s when Lucius Beebe and Chuck Clegg revived the Territorial Enterprise and began attracting the attention of like-minded illuminati. Then the Cartwright family galloped into every living room in America on "Bonanza", the fabulously popular weekly western in which Virginia City was just a quick canter away from the Ponderosa Ranch at Lake Tahoe.

A surge of visitors to the old city brought new vigor to the local economy, but the season was still short; snow came in September and overnight freezes continued well into May. Retailers covered their bets by appealing to the lowest common denominator. Sno-cones, t-shirts and rinky-tink player pianos gave C Street a carnival aspect incongruous to the solemn old storefronts facing one another across the boardwalks and the busy street.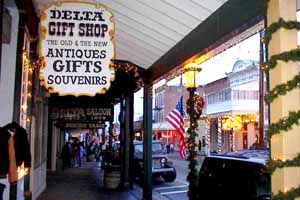 The Delta Gift Shop has been on C Street for 50 years, and it's where Robin likes to begin her shopping adventures in Virginia City.

Is C Street becoming Union Street? You can still buy a rubber tomahawk or its equivalent if you want one, but nowadays you'll have to look for it. What you'll mostly find are sophisticated retail shops selling seriously interesting merchandise: jewelry, clothing, furniture, books, art and artifacts of every kind. In the past I've been skeptical of the C Street retail atmosphere, so I am surprised to realise that this year I'm doing most of my Christmas shopping here, and recommending that anyone within a day's drive do the same.

Dining is still a step behind the shopping, however. The Sharon House has been closed for a long time now, and no local restaurant has ever quite replaced it as a universal favorite. Mandarin Garden is today's Chinese Restaurant, recently moved to C Street with a magnificent view of Sugarloaf, the Dayton Valley and the mountains stretching into the vast distances beyond. There is another handful of restaurants on C Street offering good food in pleasant surroundings.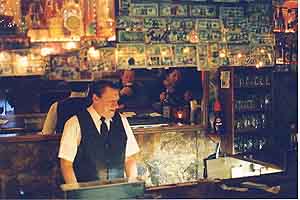 The bar at the Gold Hill Hotel is warm and welcoming on cold winters' nights.

The locals flock to The Sawdust Corner for the special dinners on Wednesdays (the only night they're open), and you won't be disappointed if you join them. The Brass Rail is known for fresh-baked fruit cobblers, and the Palace is a local favorite for breakfast. I mentioned Landrum's in the previous travelgram, and Solid Muldoon has a strong following. Cafe Rio is poised to replace the Cider Factory Resturang at Edie Palmer's B&B, but for now the brightest culinary star in the Comstock sky can only be the Crown Point Restaurant at the Gold Hill Hotel, now only serving dinners as we slide into winter. The dinner scene at the Hotel is unique, enlivened by the series of Tuesday night lectures, and by theatrical productions — even musical theater! — on other nights. I don't know anyone in the state who has more fun than Impresario Bill Fain does running his hotel. No wonder the ghost is on the prowl — the joint is jumpin'!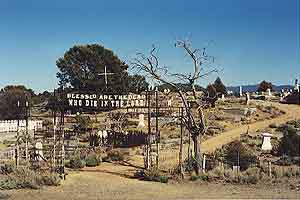 The Silver Terrace cemeteries are Virginia City's crown jewels.

What to see in Virginia City: C Street is the center of activity but it's only a part of the story. There are memorable historic attractions both uphill and down. Here are my suggestions for the top five (or is it seven?) not-to-be-missed: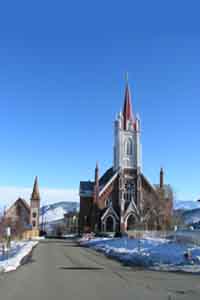 St. Paul's Episcopal, left, and Mary's in the Mountains, right.

First is the cluster of ten cemeteries at the northeast end of Virginia City called the Silver Terrace Cemeteries. This is an authentic Victorian sculpture garden, a phenomenal cultural monument and a fabulous display. In the 19th century these cemeteries were the closest thing Virginia City had to a city park, with graveled walkways between the wrought-iron enclosures, flower-bordered carriage lanes and towering shade trees. Today the gravgesites are being rescued from the neglect, vandalism and theft of many years and restored to something like their original elegance.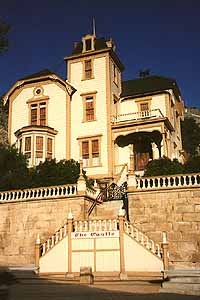 'The Castle' is one of Virginia City's historic homes open for tours.

Two: the V&T Railroad, F Street a half block south of Washington. From May through October this 19th century marvel clatters and wheezes between Virginia City and Gold Hill, just as it did in 1869 (except for the diesel engine that is sometimes pressed into service). The effort to connect it with Carson City again has just made progress by clearing some crucial right-of-way through the mine pits south of Gold Hill. [ More about the V&T ]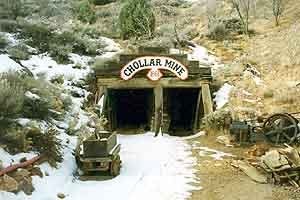 Mining history is still the bedrock Virginia City's tourism is built on, and a trip underground is still the ultimate experience.

Third: St. Mary's in the Mountains, E and Taylor. This is a beautiful structure inside and out, a marvel of Victorian church architecture, and is open to visitors daily. In addition to ongoing religious observances, it offers a small gift shop. A downstairs Museum with exhibits (Paddy Manogue's Bedroom, the Mad Monk Wing and the new Blue Mud Grotto) relating to the Church's central place in community life and its sometimes dramatic history.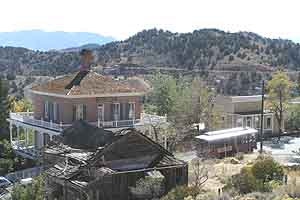 The Mackay Mansion was a bonanza-era mining office and residence.

Two blocks north construction crews are building a new state cultural center and railroad museum, and across the street Marshall Enterprises is building Silverland, a new 66-room AmeriHost Inn, meeting center and outdoor arena. It is a major development in Virginia City's evolution into a modern travel destination.

Then, uphill to B and Union Streets and Piper's Opera House. This 1885 structure — the third Piper's — has been archeologically explored and is now being restored to its original operating condition. Tours are offered, and performances are being held in the old theater again. The floor is level (the high school kids played basketball here in the 1920s and '30s), and the stage 'raked' or slightly tilted to permit a clear view of the action. A splendid 19th century canvas curtain with advertising still encloses the stage.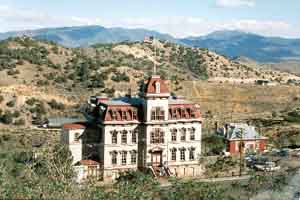 The Fourth Ward School is a western landmark in its own right.

The Fourth Ward School is on far south C Street, a four-story metropolitan schoolhouse built in 1876 to accommodate over 1000 students with state-of-the-art heating, ventilation, water distribution and sanitation systems. It was used for 60 years, through the graduating class of 1936. The National Trust for Historic Preservation presented the school with its National Preservation Award for its adaptive use as a museum and community cultural center. The only previous Nevada winner: the Eureka Opera House.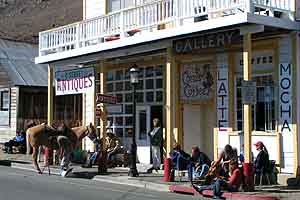 Virginia City maintains its unique character. Farrier Larry Ryan nails bright shiny new shoes to a customer outside Cora's Coffee on north C Street.

The Mackay Mansion on D Street just north of Flowery (actually the Gould & Curry mining offices and superintendent's residence), is open for tours. So is The Castle, a B Street mansion built by Robert N. Graves, superintendent of the Empire Mine. The home was inspired by a castle in Normandy, and took five years to build. Everything is original, from the French lace curtains to the silver doorknobs.

Where to Stay in Virginia City: A variety of lodgings are available, from historic to modern, motel to B&B. You'll find the individual properties listed under the Lodgings link at the Virginia City Visitor Center website, and you can book rooms in Virginia City here.

With the new lodgings and facilities now being built, and the V&T approaching, Virginia City is going to be less a 'boardwalk' attraction than ever, and more like what is once was, a cosmopolitan city with sophisticated tastes, at least on C Street.
---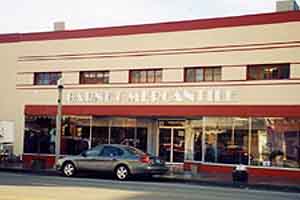 The Ely co-op (officially the Garnet Mercantile Cooperative) incorporated last December. Some 880 shares were sold at $500 each (half to locals) surpassing the 800 share goal to go forward, and the store is now open. Stop in for underpants and socks next time you're in town.

Quick notes from hither and yon:
The Mountain Motel in
Austin
has a new owner with improvements in mind . . . The march of civilization:
Elko
has a Starbuck's now, in the Red Lion on the east side of town, so now you can have an espresso there, downtown at
Cowboy Joe's
on Yuppie Row, or at the
BookStore
in between (in
Battle Mountain
it's
Latte Dot Com
) . . .
The Western Folklife Center
in
Elko
has a
bright new website
, not as beautiful as their original site, which was a work of art in itself, but extremely informative and inclusive . . . And
Pioche
is also more fully represented on the web with this
comprehensive new site
detailing the events and attractions in this tough old city of southeastern Nevada . . . The old
Wendover
Air Base is being prepared for a new round of junket flights bringing in gamblers from cities around the USA. The flights, sponsored by the
Wendover Peppermill
, are expected to begin in January . . . There's a new coat of paint on the Ormsby House in
Carson City
, will it be re-opening soon?
---
Overheard
in
Cora's Coffee House
on No. C Street in
Virginia City
: "I can give you the American Dream in three words: Independence and Abundance."

Happy Highways,