Eagles and Agriculture is a celebration of the bounty of our ranch lands and all that they provide in this beautiful valley.
The 2020 Event takes place January 23 – 26. View the schedule here or give us a call at 775-782-8144 and we'll help.
Eagles and other raptors migrate to Carson Valley each winter in anticipation of the birthing season for the cattle there, to feast on the afterbirths and the occasional stillborn calf, and photographers migrate here to focus on the raptors.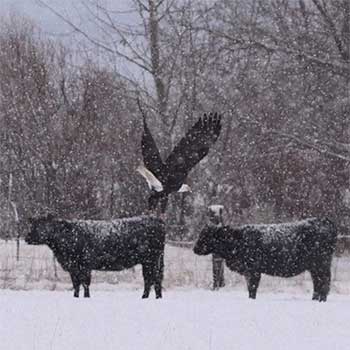 Eagles & Ag is made up of tours and events that best represent this spectacular and historically significant region of Nevada. Events and workshops include the Opening Reception and Photography Exhibit, Wetlands Tour, Raptor Highway Tour, a chartered bus tour to various historic ranches dating back to the 1850s, Owl Prowl and Live Bird Field Demonstration, various photography workshops, and a guided hike at the River Fork Ranch.
This organized event includes tours of ranches led by expert birders and historians during the calving season and attendees learn about Carson Valley's agricultural history in workshops and on tours. Experts demonstrate how to identify eagles, hawks, falcons and owls, and participants also enjoy the Falconers' Dinner where guests can get close to a variety of raptors.
Self-Guided Exploration
Raptors are here before and after the event of course, and nature-lovers, photographers and birders alike can enjoy viewing on their own from December through February (while minding their manners, of course) and on guided tours. In addition to the many raptors in the area, wild horses are easily observed throughout the region.
You can view these majestic creatures by contacting one of our local wildlife guides for a jeep tour. They are also professional photographers, so bring along your camera to get some tips for capturing the perfect shot.
Or, you can go for a drive around the valley and find them yourself. You won't even need any special equipment. Ranchers move their cow herds to pastures close to the roads throughout the valley so you are able to park along the roadside for a closer look. If you see cars parked and people pointing, you can bet there are some eagles.
To enhance your experience, here are four guidelines to keep in mind:
#1: birds and wildlife startle easy so you may want to park farther along the road and quietly walk back for a better view.
#2: don't trespass on private property. It can be dangerous to get too close to animals no matter how docile they seem. And ranchers appreciate you staying outside their fenced pastures.
#3: Carson Valley is home to preserves, a migratory birding route, and parks that provide key habitat settings for robust and diverse wildlife populations. For those ready to roam the valley on their own self-guided journey, we've put together a list of viewing areas.
#4: Locals and guests all appreciate the wildlife, so please don't disturb them. When animals are disturbed they move out of the area making it harder for everyone to enjoy them.
Need more assistance? Drop by our office in the Douglas County Cultural Center (in our lovely old High School building in Gardnerville). Or give us a call at 775-782-8144 and we'll help.