The Martin Hotel in Winnemucca evolved from a shabby cafe/boarding house across from the railroad depot into a world-famous restaurant popular with locals and travelers alike. [ Read the whole story here ]
A new version of the fabled restaurant has opened in Carson City a block west of Carson Street at Telegraph. John Arant began looking for a Carson City location five years ago. "This is the biggest Nevada city I could find without a Basque restaurant," he reasoned. "And I wouldn't be coming as a stranger." But he couldn't find the right place until this was under construction, a new ornament to the downtown district in its own right.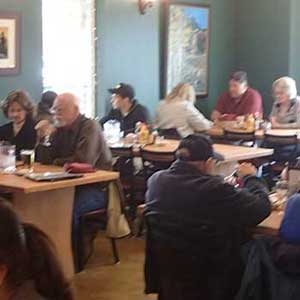 It wasn't just the place that came along, so did waitresses Dominique, Jacy, Juliana and Julia, all of whom had started as bussers at the Martin in Winnemucca, then became waitresses and now live in Carson City or Reno. They are expert on the Martin menu and at home with the friendly Martin style.
"With them here, the art on the walls and the banquet room around back, the same menu with the same prices — if already feels like home," John said. "Except the floors are level here".
Tastes like home too, both in the dining room — "the menu here is exactly the same as in Winnemucca," John says, "including the prices" — and at the bar. Joe Hughes is the artisan who builds each picon according to the strict tradition of the Martin.
The Martin in Winnemucca has always been a special favorite of ours for its unpretentious excellence. In 2013 it received our Must-See Must-Do Award of Excellence as a Restaurant ("Friendly, fun and delicious.") and in 2015 it was picked again, this time as Hidden Treasure of the Year. Here is the text that accompanied that announcement:
The Martin Hotel is our first two-time winner, and takes its second Award in a different category from its first one, which was Restaurants obviously enough.
But beyond the good Basque-style food and the picon punches for which it is justly famous, the Martin is also a major community resource and plays a role in Winnemucca's over all well-being. Its Banquet Room serves as the venue for community events of all kinds and for the great and near-great entertainers booked by Great Basin Arts & Entertainment. And the Ladies' Pinochle Club has a monthly luncheon meeting out by the bar. Every city should have a Martin Hotel!
And now Carson City has one. Come try it.