Battle Born Trail Run – Cathedral Gorge State Park
October 22 @ 8:00 am

-

9:30 pm

$45 – $55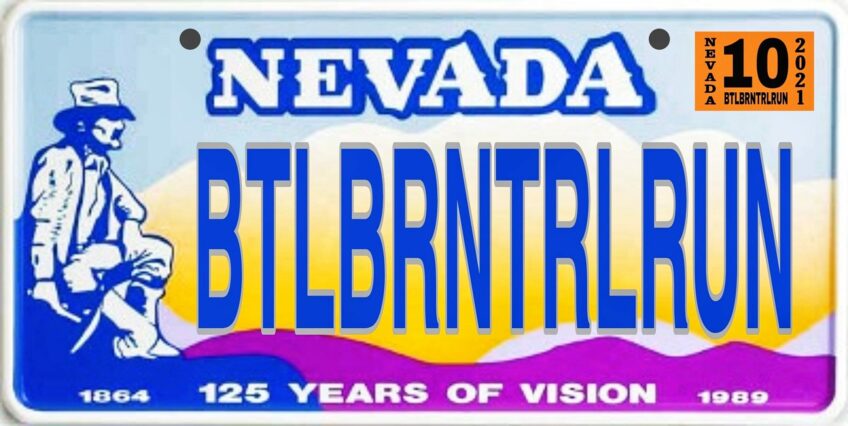 Join Us on October 22nd, 2022 for the 5th Annual Battle Born 3.6 mile trail run in observation of Nevada Day.
Nevada (meaning "snow-capped mountains") became a state on October 31st, 1864.
This trail run is 3.6 miles for the 36th state into the Union and a 10.31 mi for Oct 31st, will be held on the trail courses at Cathedral Gorge State Park. Great scenery and views of the state park and Panaca valley.
The course will be held on the dirt trails at Cathedral Gorge. Course will be marked and is a bit challenging with the stairs to climb to Miller's Point.
Race will be October 23rd and is offering two different times for races; a morning race and an evening race. The 10.31 miler will be a morning race only, not offered for sunset race.
Cost of entry 3.6 miler, $45 – 10.31 miler $55. (register by Oct 1st for guaranteed shirt and/or preferred size). Race Day Registration is an additional $5!
*There will be a $5 fee per vehicle state park fee.
VIRTUAL OPTION, $40 entry + $5 for shipping.
*Refunds are not allowed for this race.*
Double The Battle add $15, Register for a morning race and the evening 3.6 miler for addtl $15.
START TIMES
A.M. Races:
10.31 mi – 8am
3.6 mi – 9am
1.864K Kids Dash – 9:15am
P.M. Races:
No 10.31 miler
3.6 mi – 5:30pm
1.864K Kids Dash – 5:15pm
RECYCLE KIDS DASH! A 1.864K (1.15 mi) just for kids 12 & under. Registration is $10 and will receive a medal from previous RRA events, finish line food, and candy. Top 3 finishers will receive a medal! Parents or guardian must be present and parent must sign waiver when registering.
Custom Finisher Medals to look like a Nevada License Plate to every finishing registered participant.
Custom Race Shirt to every registered participant.
Prize to Top 2 Overall Winners. (Possible top 3 if enough sign ups in each race.)