Broken Record 3/6 Hr MTB Challenge – Kershaw-Ryan State Park
May 14 @ 7:00 am

-

5:00 pm

$30 – $70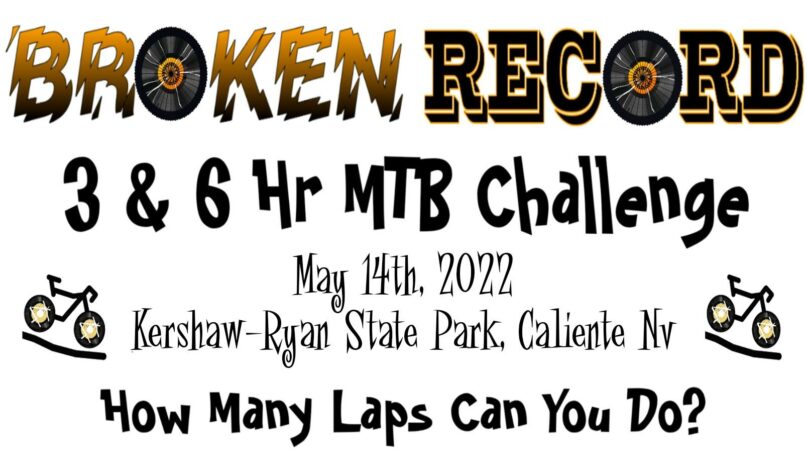 Come get loopy at this 1st annual mountain bike lap race being held at Kershaw-Ryan State Park in Caliente, Nv, the Broken Record 3 & 6 Hr MTB Challenge. This 6.5 mile circuit will be held on the single-track mountain bike trail system at the top of Kershaw Canyon.
EVENTS & CATEGORIES
3-Hour: Youth, Female Open, Male Open
6-Hour: Youth, Female Open, Male Open
Youth class is 17 & Under, parent/guardian must be present at all times will youth rider is competing.
ENTRY FEES & DEADLINES
3-Hour: Youth $30, Open $50 – Start 9 am
6-Hour: Youth $50, Open $70 – Start 7 am
Online Registration Closes May 12th, 2022 at end of day.
Race Day Registration will be held from 6-6:30am and there will be an additional fee of $5.
Race Day registration, cash only!
PRIZES & SWAG: For this event, prizes will be awarded to the top 3 racers in each category if there are 10 or more participants in each category. If a category/categories have less then 10 participants then prizes will be awarded to 1st place overall winner only.
Registered riders will receive a custom race swag. The race swag is in the works, will post soon.
And of course, a custom race medal to all finishing riders.
There will also be a few fun awards given to the "Oldest Rider", "Youngest Rider", "Funnest Rider", "Worst Luck Rider", and "Furthest Traveled Rider".
COURSE: The course will start at the at Caliente Tower Rd Trailhead and run counter clockwise. The course is 6.5 miles and all single-track bike trails with a few dirt road crossings. The course starts at 5,187 ft with approximately 790 ft elevation gain and 793 ft elevation loss.
PLEASE SEE RACE WEBSITE FOR MORE DETAILS OF RACE! HOPE TO SEE YOU ALL!