Fears, Tears, and Beers MTB Enduro Race – Ely NV
September 26
Free – $75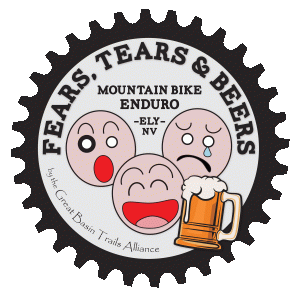 Fears, Tears, and Beers is an Enduro format mountain bike event in Ely Nevada. Come out to Ely and pedal your bike to the top of the mountain while you are timed at specific sections of the course. There will be 2-6 timed sections comprised of twisty downhills and sprint sections.
The event takes place on BLM and USFS administered lands under special use permits.
Men's and women's events for all classes.
Beginner Run: 11 miles, 1000' climbing, 2 timed sections
Intermedite Class: 16 miles, 1,600′ elevation gain, 3 timed sections
Sport Class: 23 miles, 2,400′ elevation gain, 4 timed sections
Expert Class: 33.3 miles, 3,400′ elevation gain, 5 timed sections
Pro Class: 41 miles, 6,000′ elevation gain, 7 timed sections
Be prepared for the weather. We have had everything from hot and sunny to very wet and snowing.
*After-party/awards ceremony at Bristlecone Convention Center.
Racers eat free, others will need purchase wristband for $10.
The event is also great for visitors. Music and celebrating all day at Broadbent Park. Bring your binoculars and lawn chairs to watch the Expert and Pro classes take on the final downhill timed section.
With 14 Years of Racing History, Fears, Tears, and Beers is America's Oldest Enduro Bike Race. Starting out as a motocross format for racing, it got adopted by local converts to mountain biking and the rest is history. I mean really, who cares how fast you make it to the top, it's all about sending it on the way back home.
Fears, Tears, and Beers is the annual fundraising event for Great Basin Trails Alliance. in partnership with Nevada Division of Forestry and BLM, GBTA is responsible for the building and maintenance of the non motorized multi use trails in the area. All money raised during this bike event is used for grant matches and expenses associated with reinvesting into our trail systems.