Highway 50 Association's Annual Wagon Train – South Lake Tahoe
June 6

-

June 12

$25 – $130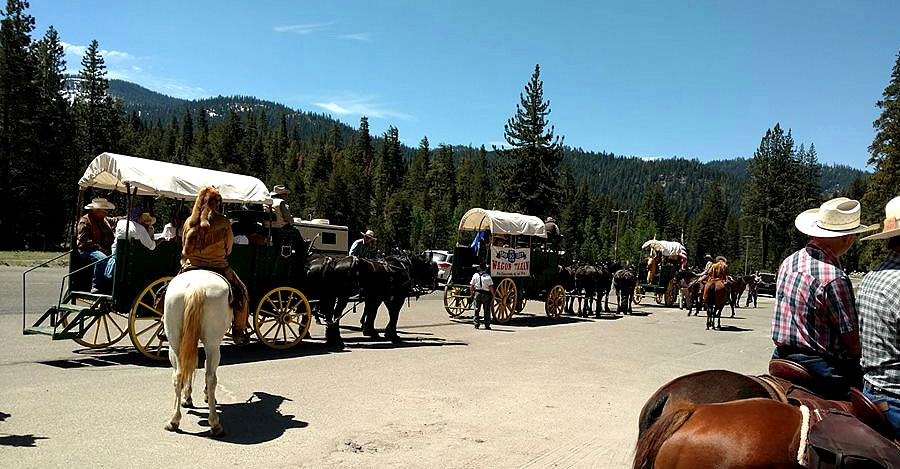 72nd Annual Highway 50 Association Wagon Train
The Highway 50 Association promotes the only bi-state historic event of the Highway 50 Wagon Train!! A great way for the family to relive history together!
Route: South Lake Tahoe to Placerville, California
* ALL PARTICIPANTS MUST REGISTER
SPECIAL NOTE:
All Dress and Wagons or Buggies must be Authentic Era – Please check with officials. No T-shirts, tank tops, halter tops or shorts.
Pow Wow each night at the Lead Hitch.
Wagon Train operates by "Rules of the Road" – see with forms above.
Shuttle service available to move support vehicles daily.
No rides sold or registrations taken after 8:00 p.m. on Friday, June 11, 2021, at Pollock Pines.
Water available.
Persons who wish to ride as passengers will be given special help and referral to Teamsters with seat space. Passengers may NOT move from wagon to wagon during the trip.
Teamsters usually charge per day to help subsidize their expenses; this is in addition to the daily or full trip registration fee.
Who Qualifies?
Any experienced rider who owns a horse or borrows one.
Any experienced teamster with a Team and Wagon or Buggy (must be an authentic replica – no rubber tires or plastic.)
Anyone wishing to ride in a wagon as a passenger and willing to dress in period attire.