31st Rocky Mountain Oyster Fry – Virginia City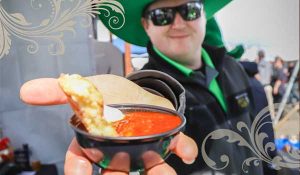 We're taking the phrase, "have a ball" to a new level with the 31st annual Rocky Mountain Oyster Fry. This St. Patrick's Day celebration unites daring revelers for a wild and outlandish festival featuring tasty testes, a Ballbreaker Saloon Crawl, St. Patrick's Day Parade, costume contests and more.
Cooks compete for bragging rights by preparing their most innovative and, sometimes, outlandish recipes featuring oysters of the land variety. You might forget what you're really eating – seriously it's that good. Purchase a sampler and select from grilled, smoked, fried or even oysters in a taco.
Partake in the Ball Breaker Saloon Crawl, touring our historic saloons and more with tasty libations and samples. Not to mention, it's a great way to wash down those oysters!
This full-on Irish testicle festival is the place to be for St. Patrick's Day, making it one of the largest celebrations in Nevada and the most outlandish atmosphere found west of the Mississippi.
Make a weekend of it! Plan ahead and book a room in town before lodging options sell out. View Virginia City's lodging options here.
**ALL VCTC EVENTS ARE RAIN OR SHINE AND NON-REFUNDABLE**
Subject to state guidelines, this event is subject to change or cancel at any time.