Winter Steam Photo Shoot Spectacular- Nevada Northern Railway – Ely
February 11

-

February 13

$540 – $635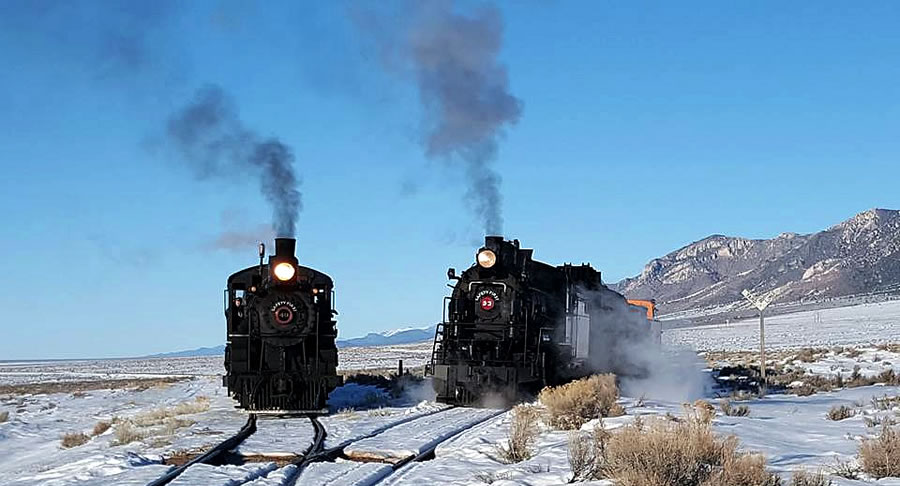 If you think you were born one hundred years too late to witness the glory of steam railroading, then we have good news for you: you weren't. There still exists a place where steam locomotives rule the rails.
Hidden away in the high desert of east central Nevada is a time capsule like no other, the Nevada Northern Railway National Historic Landmark. Annually during two weekends in February, time travel is possible. Come to Ely Nevada, set your watch back a century, and photograph railroading as it was in the last century.
The Nevada Northern Railway is not a mishmash of equipment from different railroads or different countries, nor is the equipment prettified or garish. This is the original railroad equipment in the original paint schemes in the original setting, on the original Nevada Northern Railway mainline. All of this equipment has been on the property for decades, and some if it more than a century, all of it still operating on the original track that was graded and laid a century ago.
This was the time when steam moved mountains. The real business of this railroad was copper and copper was king! It was the reason that the railroad was built in the first place. Ore trains ran day and night, year round. The demand for copper was insatiable. It was the miracle metal that made all of the newfangled inventions, such as the electric light and the telephone, possible. Today our trains still move from the mine to the mill—steam powered, of course.
What can you expect during the photo shoots? World-class photographic opportunities, steam locomotives pulling vintage freight and passenger cars that are original to the railroad. Here, trains are still made up with wooden cars whose origins date back as far as 1872. The crews will be in period dress, adding to the experience.
| | | |
| --- | --- | --- |
| Winter Steam Spectacular | Member | Non-Member |
| Either Weekend | $540 | $635 |
| | | |
* Feb 11 – 13 or Feb 25-27, 2022