Beatty
Beatty EventsAwaiting you in Beatty

Four years after the discovery of silver ore at Tonopah, and two years after the fabulous discoveries at Goldfield, prospectors organized the Bullfrog Mining District and established a number of small communities, Beatty among them.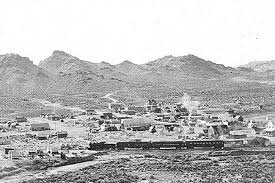 Because of its favored location astride the Amargosa River (which makes most of its long winding way to Death Valley underground), Beatty survives while the livelier mining towns of Bullfrog and Rhyolite are dead.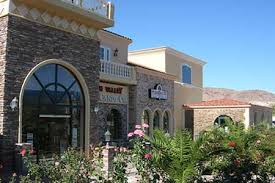 Beatty today is important as a gateway to Death Valley, as the first community of size north of Las Vegas, and as a headquarters for exploring and rockhounding. What was once the Exchange Club at the center of town is a hardware store now, and on the south side of town the former Burro Inn is now the new Death Valley Inn. The Stagecoach Casino Hotel on the north side is augmented by a big gas station and candy shop. A couple of restaurants, a small grocery store, and services for motorists are available in town.
Beatty's environs — including Death Valley National Park — are among the most spectacular in the world, and Beatty is a good base for exploring the southwestern Nevada countryside. Nevada Route 374 leads to the historic ghost town of Rhyolite and over Daylight Pass — or better, take the unique and thrilling digression through Titus Canyon when it's open — into Death Valley.
The enclosed hot spring pool at Bailey's a few miles to the north of town is open to visitors for a small fee, or stay in an RV space and your soak is included.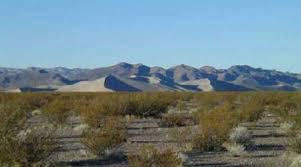 South of Beatty there are two areas of particular interest. One is the Beatty Dunes, west of US 95 and accessible by graded dirt road a few miles south of town. This was the setting for much of the movie Cherry 2000, starring Melanie Griffith as its future-shocked and violence-prone heroine. Most days you'll have this curious geographical feature to yourself.
The ruins of Carrara, a marble quarry named for the famous source of Michelangelo's raw materials, are easily visible to the east about nine miles south of Beatty. There are a few concrete ruins along a bumpy track that proceeds from the highway into the colorfully uplifted and folded strata of the hills. The striped hillsides attracted the stone workers who established the quarry in 1904, shipping their cut and dressed stones to Las Vegas by rail from the Tonopah & Tidewater RR depot. A hotel with a large bathing pool made stopping here a special pleasure in the old days.