Sparks
Sparks EventsAwaiting you in Sparks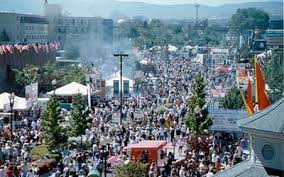 Sparks isn't Reno's little sister any more. The small, quiet family-friendly railroad town that sprang up overnight in 1904 has become a city in its own right, a big sprawling 36-square mile city at that.
The best view of Sparks is from the Red Viper, a water slide more than five stories tall at Wild Island. This pleasure palace opened as a water park on the east side of town in 1989 and has grown to include every kind of recreation for children and their parents. Look south to the river where in the early 1850s the Stone & Gates Crossing prompted a little village to accumulate: eight or ten businesses — a butcher, a blacksmith, a saloon, a couple of dozen small houses and a school. It was the first settlement in the Truckee Meadows, and the only one until the railroad came through in 1868 and Reno was established.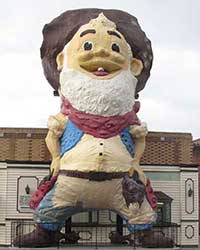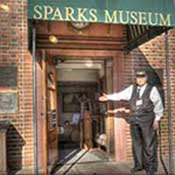 Last Chance Joe Stands proudly outside the Sparks History Museum on Victorian Avenue (originally B Street), where the little city was centered. And as interesting as it has been since, there has been nothing as dramatic in Sparks' history as its abrupt beginning: the railroad switching yard at Wadsworth plus the neighborhood of workers' homes around it were uprooted, rails, houses, shops, sheds, trees and all, loaded onto flat cars, hauled to an empty patch of desert four miles east of Reno and put back together again.
Other than the endless banging of the boxcars in the switching yard and the clanging and hissing and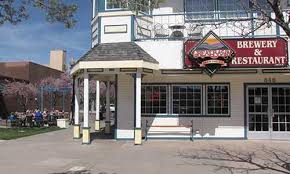 whistling of the through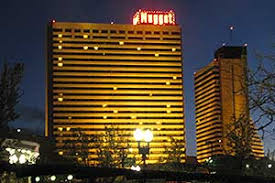 trains in and out of the station, everything was quiet in Sparks for nearly 50 years as the little city grew slowly with the railroad. Now the railroad is history and Sparks neighborhoods extend for miles to the north and east.
John Ascuaga gave Sparks its first skyscraper, and now the homely old business structures spawned by the railroad along B Street are restored as a confectionary Victorian dream. B Street was once known as the longest one-sided street in America. but it's Victorian Avenue now, quite urbane with bright lights and lively with public events the year around.
175 East Greg Street, Sparks, NV, USA
9650 Pyramid Way, Spanish Springs, NV, USA
195 East Glendale Avenue, Sparks, NV, USA
1730 Glendale Ave, Sparks, NV 89431, USA
820 Victorian Avenue, Sparks, NV 89431, USA
846 Victorian Avenue, Sparks, NV, USA
S Rock Boulevard at Rock Park, Sparks, NV, USA
764-794 Victorian Plaza Circle, Sparks, NV 89431, USA
300 Howard Dr, Sparks, NV 89434, USA
Sparks Event Calendar
There are no upcoming events at this time.