Carson City
Carson City EventsAwaiting you in Carson City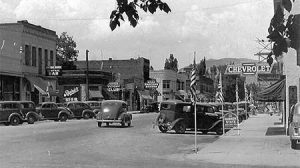 THIS PLEASANT CITY in the shadow of the Sierra has been the Nevada capital since the discovery of the Comstock Lode prompted the creation of Nevada Territory in 1861. It was confirmed as Nevada's permanent capital upon statehood in 1864.
The V&T Railroad was built in 1869 between Virginia City and Carson City but by 1880 gold and silver production of the Comstock mines was in decline, and Carson City declined with it. It was 1960 before Carson City regained its 1880 population level.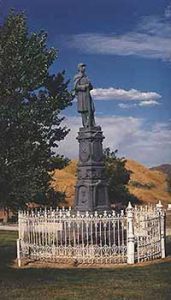 Until then Carson City advertised itself as America's smallest state capital. Then in 1969 Ormsby County was merged into Carson City to consolidate government services in the 145.6 square mile area and now there are 11 state capitals with smaller populations, and only seven that are physically larger.
It was another 20 years at least before Carson City outgrew its reputation as a one martini town, but now it can boast of an inviting roster of restaurants and even a bit of nightlife. There have been fine restaurants in Carson City over the years, but not very many at a time. Now there are at last two dozen excellent choices — more than enough if you're just visiting, three or four of which will become favorites if you move here. Most of the city's dining and lodging options are within a block or two of Carson Street, and a tiny Arts district is forming on the westside downtown.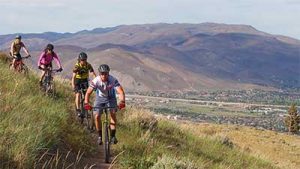 Given everything there is to do in the daytime — from visiting historical museums to riding mountain bike trails — Carson City has quietly become an enjoyable destination. If you're a stranger to town, a stop at the Carson City Visitor Center at the corner of Carson and Washington Streets will help you find the city's unique attractions.
Carson Street is the great north-south boulevard that was US 395 until the freeway bypass of a few years ago, and a drive along Carson Street from one end to the other and see most of what you're looking for in the way of dining and lodging, and a lot of the shopping too. And so with the major exceptions of the Gold Dust West (with bowling alleys!) and the V&T Railroad to Virginia City on US 50 east, a drive the length of Carson Street constitutes a self-guided tour to most of the city's restaurants, hotels and motels, and some of its most appealing attractions.
Carson City's museums are among those attractions, and the one where the Governor works, the Nevada State Capitol at the center of the city, is open to visitors during office hours, although you'll need an appointment to see the Governor himself. The former Assembly Chamber upstairs has been transformed into an exhibit area. The Legislature Building to the south also welcomes visitors, and has perhaps the best Nevada-branded gift shop in the state.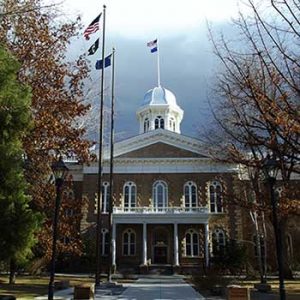 The 1866 U.S. Mint at 600 North Carson street is now the Nevada State Museum. The handsome structure on the northeast corner of Carson and Robinson Streets was built of prison-quarried sandstone and produced nearly $50 million in coin until it closed in 1933.
You can spend a pleasant hour wandering the streets of the West Side historic district, phone to ear and map in hand, following the Blue Line Trail.
The Children's Museum at 813 N. Carson Street is open seven days a week from 10 am to 4:30pm, providing innovative hands-on learning adventures for kids.
Nevada State Railroad Museum on south Carson Street is a treasure-trove of 19th century technology and maintains a busy schedule of motorcar and steam train rides on the Museum grounds. The historic V&T Railroad operates from a depot on the far east side of town up to Virginia City and back from May into October.
Lone Mountain Cemetery at North Roop Street and Beverley Drive is open daily. Stagecoach driver Hank Monk is probably better remembered than the pillars of local society (including five governors) who are buried around him here. It was Hank who bounced Horace Greeley up the mountainside to California, lashing the horses over the rocky road and yelling down into the coach, "Keep your seat, Horace, I'll get you there on time!" A cast-iron civil war soldier keeps endless vigil.
Carson City fields a bountiful Farmer's Market and has a busy series of Events from outdoor concerts to sports tournaments, but the day after Nevada Day is the grandest 36-hour day of our year. Even though Abe Lincoln signed our statehood papers on October 31 1864, Nevada Day is now the last Friday in October whatever the date, and the parade is the next day. This parade is a gaudy 3-hour procession of floats, bands and marching groups, heart-felt and authentic, prancing and dancing, marching and lurching south down Carson Street to the delight of the onlookers. It makes our hearts glad to be there.
716 N Carson St, Carson City, NV 89701, USA
5500 Snyder Avenue, Carson City, NV, USA
135 East Clearview Drive, Carson City, NV 89701, USA
2765 US Hwy. 50, Suite A,Carson City NV 89501
3700 N Carson St, Carson City, NV 89706, USA
777 S Stewart St, Carson City, NV 89701, USA
1801 N Carson St, Carson City, NV 89701, USA
600 N Carson St, Carson City, NV 89701, USA
Nevada State Capitol Building, North Carson Street, Carson City, NV, USA
813 North Carson Street, Carson City, NV 89701, USA
2180 S Carson St, Carson City, NV 89701, USA
Carson City Nevada Events Calendar
There are no upcoming events at this time.