Victorian Square is what was once just downtown Sparks. The railroad yard with its famously huge roundhouse — the biggest in the USA when it was built — has been replaced by the equally famous Sparks Nugget with its two towers.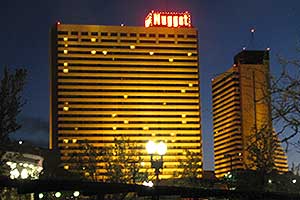 The high-rise Sparks Nugget, the bright row of saloons and restaurants across the street and the nearby 14-screen movie complex combine to create a pleasant evening on the town — three of Sparks' most popular restaurants are here, and a fourth is just up the street.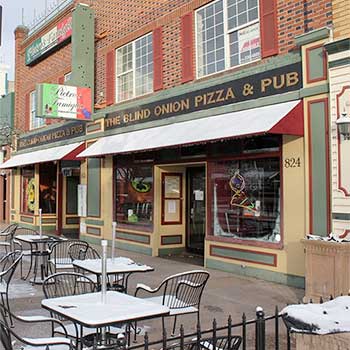 In Sparks any discussion of food starts (and sometimes ends) with the Nugget. It has been an iconic presence in modern Sparks since Dick Graves established it here in 1955 and put Last Chance Joe outside; after three generations the hallowed Oyster Bar is still a local favorite.
The homely old business structures of the early 20th century railroad town are being replaced or restored to a confectionary Victorian dream of luxury and romance they never aspired to a century ago. The Abbay Hotel, a residential hotel for railroaders, is now the Blind Onion Pizza and Pub downstairs; the small rooms upstairs have been gutted and the space transformed into Pietro's Famiglia Ristorante Italiano, renowned for its food, and for Richie Ballerini's singing on Friday, Saturday and Sunday nights.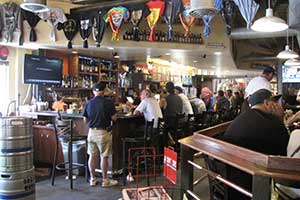 Great Basin Brewery is at 846 Victorian Avenue, a brewpub catering to a mostly local clientele with a hearty pub grub menu and prize-winning beers, ales and porter. When Tom Young and his partners opened the place in 1993 they sold more beer in their first month than any other brew pub in the USA — so much so fast that they sold everything they had and ran out of beer. Great Basin brews are now distributed in all 17 Nevada counties and 17 more in California.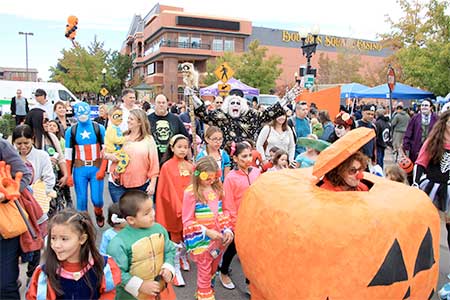 Victorian Avenue is bright with lights and lively with public events the year around. Reno Craft Beer Week is a region-wide festival attracting both traveling and local beer enthusiasts and encouraging breweries, restaurants, pubs and retailers throughout the Truckee Meadows to feature craft beer. Hot August Nights brings a gleaming parade of classic American automobiles to Victorian Square, and Pumpkin Palooza is for kids, a harvest-themed funfest in October.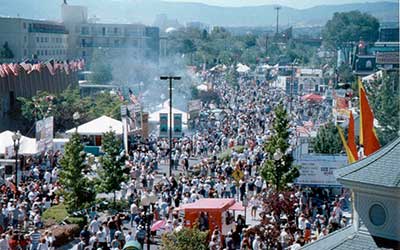 The Best in the West Nugget Rib Cook-Off in Victorian Square is America's largest barbecue festival. A half-million hungry BBQ lovers consume 100 tons of ribs over six days.
With free headliner entertainment each day, a kids' area and craft booths, the Rib Cook-Off has become the country's ultimate end-of-summer family affair.