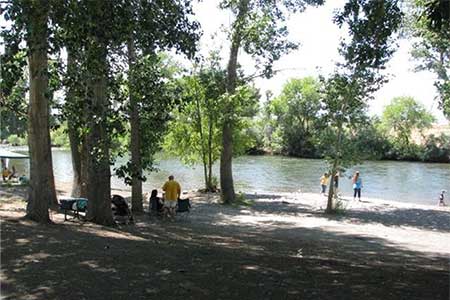 Rock Park is located along the Truckee River, accessible by taking Rock Boulevard south from I-80 or from Victorian Avenue; you'll see it. The combination of the Truckee River hurrying past with the carefully developed facilities on the shore is beguiling.
There is a a fair amount of parking, and lots of green grass. The park offers a variety of undemanding activities like sunbathing, wading, picnicking, reading a book under a shady tree and strolling, as well as some more challenging: jogging, bicycling, kayaking, tubing and rafting.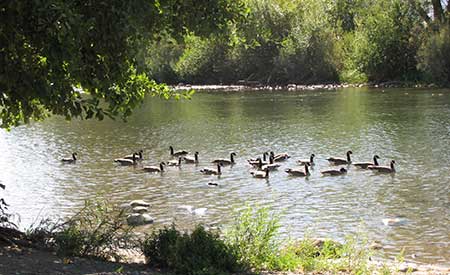 There is a children's playground, a barbecue pit and bathroom facilities. The paved walking/bicycling path is provided with exercise stations and extends eastward nearly to the encircling hills, and westward through the center of Reno and beyond.
The City of Sparks pursued the development of environmentally friendly recreation allowing for greater public access to the river, including handicap entry in two different places. The result is so popular that it can be quite crowded on high use days. For more information call 775-353-2376 or mail recinfo@cityofsparks.us.