The Carson Valley Visitors Center is located inside the Carson Valley Museum and Cultural Center, right on Highway 395 in Gardnerville. Due to current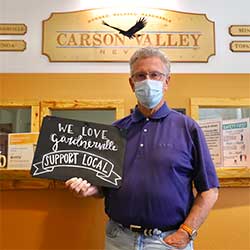 COVID restrictions, enter through the back of the building and ring the bell for entry. Visitors center staff can help you find information on the myriad of things to do and places to eat in Genoa, Gardnerville, Minden and Topaz Lake. For a small fee you'll want to mosey around the museum where you can take a stroll along old Main Street, and see the newest agricultural exhibit.
For sale are photo cards from John T. Humphrey Photography, small postcards of the Carson Valley, and Carson Valley logoed merchandise including water bottles and phone chargers.
Just down the hall, the Historical Society Bookstore sells books about the history of the region, hiking and outdoor activities, children's books, and books written by local authors.
Should you visit while the office is closed, there is a kiosk at the front of the building with self-service information, and a scannable QR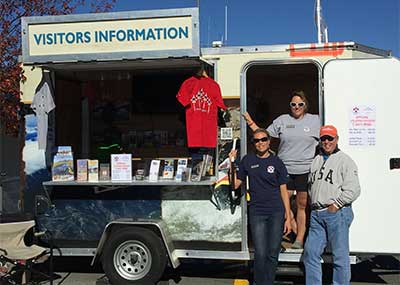 code for more information on our website.
Look for the mobile visitors center which offers information at events in the valley, like Genoa Candy Dance, Minden Concerts in the Park, Genoa Western Heritage Days, Aviation Roundup and more.
Follow us on Facebook right here for our latest posts —