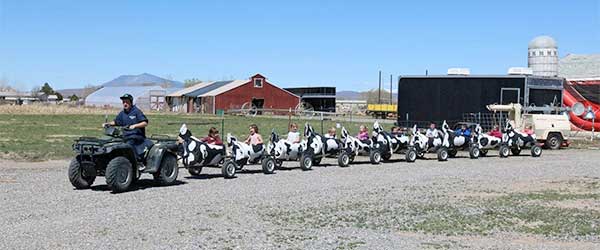 The Lazy P Adventure Farm is a family operation. We believe it is important that children understand the importance agriculture plays in their everyday lives. Children have fun while learning and interacting with the farm animals, and their families have fun along with them. We challenge their critical thinking skills navigating our maze, experience "agriculture in process" as they observe and learn about growing corn and pumpkins — and to use all their senses to form a happy and memorable experience on the farm.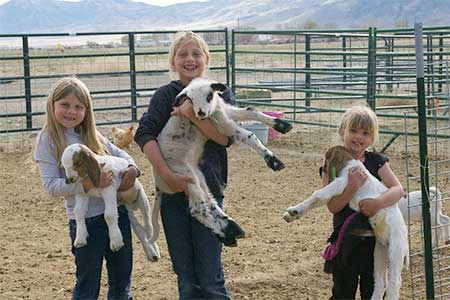 There are events and activities offered through the warm weather months, starting with Farm Baby Days in the Spring. oungsters experience all the new baby animals up close and personal: newborn goats, sheep, pigs, bunnies, chickens, calves and foals. Children are encouraged to pet the babies, hold baby chicks, plant a pumpkin seed — and experience agriculture through hands-on activities. $5 per person age 3 and up. Admission also includes a hay ride, cow train, pedal carts, bounce house, even horse rides for an additional fee.
We call for volunteers to help plant pumpkins each June, which prompted this Facebook exchange: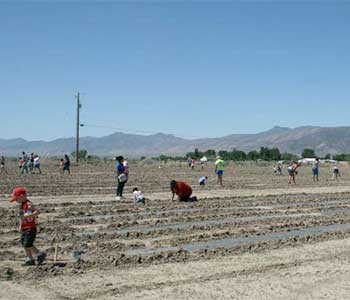 Lazy P issued an invitation — Bring the family out to plant pumpkins on June 3rd and 4th from 10am-1pm. Please wear comfortable shoes, clothing and lots of sunscreen. We will provide the water. Every child that plants pumpkins will receive a certificate for a free pumpkin during our fall Farm Festival in October. Entrance is the main gate by the house and go straight till the bend follow the balloons.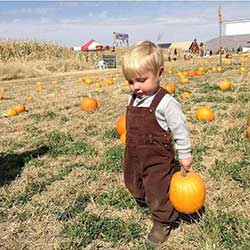 Kelly Ward responded after the event — My boys had a great time. So excited that we got to finish our row this year. My 1 year old picked it up pretty fast minus he didn't like when mommy covered the seed up.
Lazy P — Thank you for coming
Kelly Ward — Thank you for allowing out kids to help plant them. We're looking forward to picking a pumpkin from our row come October!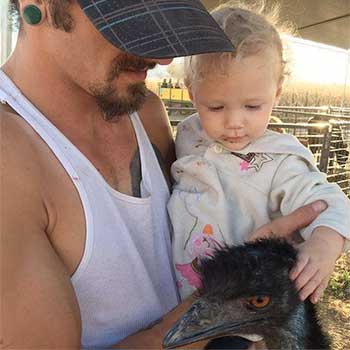 Our Fall Farm Festival is every weekend in October providing the best of family fun around! Bring the whole family for a down-on-the-farm good time. 
Two Corn Mazes, our Petting Zoo, a Hop-Hop in the Bounce House, a Hay Mountain to climb, and some optional Halloween activities, some scary some not. And we have pumpkins! Bring the family and search for the perfect pumpkin from the hundreds of pumpkins hand-planted by the local volunteers back in June. Our 2016 Corn Maze honored Charlie Brown and the Great Pumpkin —