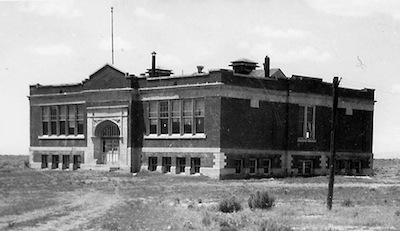 What's left of Metropolis is the evocative ruin of a desert dream that failed. It was to be a planned community of 7,500 residents in the center of more than 40,000 acres of intensely cultivated fields. A four-block business district with cement sidewalks and streetlights was built in 1911, containing the grandest three-story hotel between Salt Lake City and Reno, a wagon factory and the splendid Lincoln High School, as well as the usual collection of farm-town enterprises.
But an unfavorable court ruling on water rights in 1913 resulted in the failure of the parent company, and Metropolis did not flourish. In 1925 the railroad spur was abandoned. In 1936 the hotel burned. In 1946 the post office was closed, and in 1947 the school was closed as well.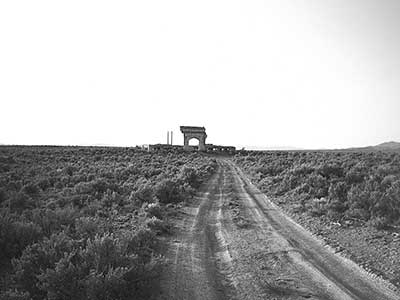 Ranching continues in the region, but Metropolis itself is only a historic marker and the monumental arch — once the front entrance to the high school — rising out of the sagebrush like a 20th century Stonehenge. It is the only remaining structure of this ambitious city-to-be, and on my last visit was inhabited by an owl. The immense hotel ruins nearby also demonstrate the impressive ambitions of the city's founders.
To make the pleasant trip through the sagebrush from the Visitor Center, go weest on 6th Street to Lake; north on Lake Street to 8th, then west on 8th street and continuing some 12 miles through the scenic ranch lands of northeastern Nevada. Bring what you need, there is nothing left to buy in Metropolis, but plenty to think about.