For many years the National Automobile Museum (The Harrah Collection) has captured the interest of men, women and children, from auto enthusiasts and history buffs to the casual visitor.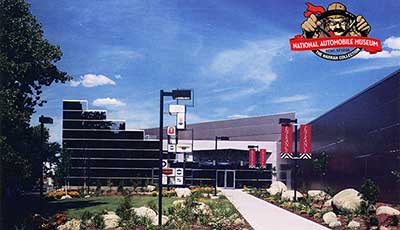 When the museum opened in late 1989, it was reported to have established the standard for automobile museums worldwide with its extensive collection and innovative design that set it apart from the typical warehouse-setting of many collections. It features unique period street settings, in-depth interpretation, and opportunities for visitor participation.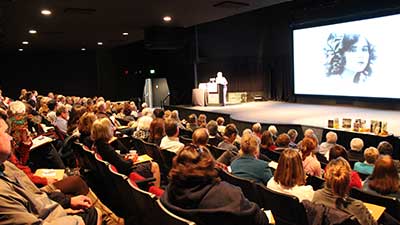 Since then, the museum has been named One of America's Top 10 Automobile Museums many times and acknowledged for contributing to Northern Nevada's cultural and economic vitality.
Located along the banks of the Truckee River in downtown Reno, the museum lets visitors travel through time like few other places — it's like driving through a century in just a few hours. Hundreds of thousands have been delighted by historical street settings, entertaining audio tours, amusing theatre presentations and award-winning programs.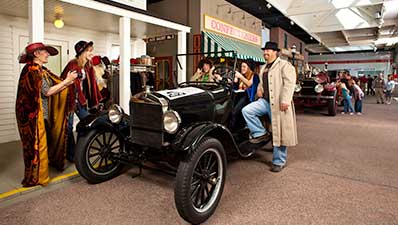 Visitors can stroll down authentic street scenes, representing different eras beginning with the turn of the 20th century, featuring building facades, autos and artifacts from each era.
A multi-media timeline of events and achievements on each street chronicles the history and progress of the automobile.
There are galleries filled with exceptional automobiles, mostly from the world-famous collection of Bill Harrah, founder of Harrah's Hotels and Casinos and the former Harrah's Automobile Collection.
In fact, there is more than a century of automobiles — antique, vintage, classic and special interest. The museum is considered to have one of the finest horseless carriage collections in the world, and it is known for its many rare, experimental and one-of-a-kind vehicles. One of the most historically significant cars in the museum is the 1907 Thomas Flyer, winner of the 1908 New York to Paris Automobile Race.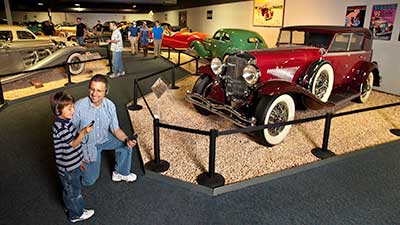 There is always something fun and interesting to do and see. The museum offers new exhibits featuring theme car displays or topics from art to historical subjects, and a variety of events from fun, family activities to informative, entertaining educational programs.
The museum, governed by a Board of Trustees, is a private nonprofit, 501(c)(3), tax-exempt corporation formed solely for educational purposes. It continues to grow thanks to the generosity of donors, who believe in the Museum's mission and provide important funding to enhance the museum's operational resources and endowment, and gifts of automobiles and artifacts.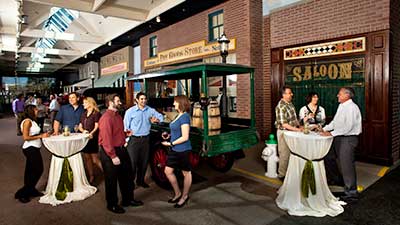 The mission of the National Automobile Museum (The Harrah Collection) is to collect and preserve the automobile for future generations, with an emphasis on vehicles collected by William Fisk "Bill" Harrah, to tell the story of the impact of the automobile on American society, and to perpetuate the legacy of Mr. Harrah as a renowned collector.
For those wishing to become involved and informed about new exhibits, events and activities, the museum has several annual membership programs. All categories offer generous and valuable benefits. Members are important to the museum. Membership fees are a significant source for sustaining the museum and a portion of almost all annual membership fees is tax-deductible.
Second Thursday Talks
Held on the second Thursday of each month, 1:30 – 2 pm, in the Museum's Theatre. Enjoy a 30-minute talk, Q&A, refreshments and a unique piece of history.
Cost: Free to Museum members. Included with paid admission. Otherwise, $5 per person to attend the talk.
Ticket Prices:
Adult: $12
Senior: (62 and older) $10
Youth: (6-18 years old) $6
Children: (5 and younger) FREE
Member: FREE
FREE Parking
Science Saturday
Science buffs are invited to visit the NAM on the second Saturday of each month from 9:30 a.m. to 1:30 p.m. for an in-depth exploration of space from right here on Earth.
Hosted by the Nevada Space Center, Science Saturdays provide a wealth of knowledge for creative and inquisitive young explorers on a variety of space-themed topics. Simulated science journeys, full-dome planetarium programs, hands-on workshops, live presentations and virtual reality headsets. Get your tickets today and join us for the next event.
Call (775) 333-9300 or visit our website for more information. Follow us on Facebook right here —