Today's Nevada Southern Railway was originally built in 1931 as a spur line of the Union Pacific Railroad from Las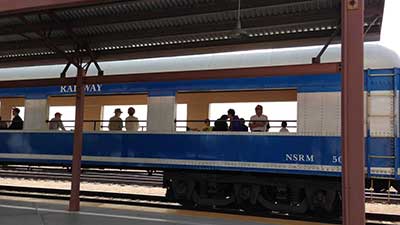 Vegas via Henderson to Black Canyon on the Colorado, where construction of Boulder Dam was getting underway.
When the Union Pacific Railroad sold its Las Vegas-Henderson spur to the City of Henderson 54 years later it was agreed that the city would maintain the rails and the UP would continue 5-days-a-week service to the city's industrial businesses. Beyond Henderson the line was unused, and in 1988 NDOT paved over the rails that crossed the highway.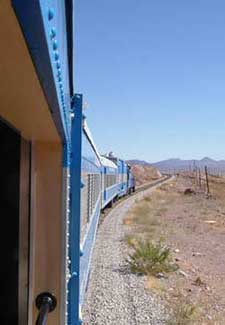 By 2000 the State Railroad Museum in Boulder City consisted of some track, the big shop across Yucca Street, the shaded platform and some fully rehabbed equipment from Utah.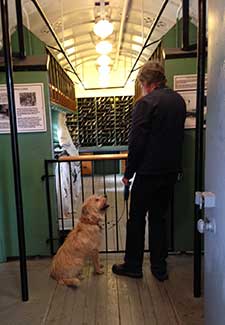 All that was lacking was running trains, so in 2002 Museums Administrator Peter Barton contacted southern Nevada members of the National Railroad Historical Society and asked if in addition to loving railroads they'd like to run one. It turned out they would, and they formed the Friends of the Nevada Southern Railway to fire up the locomotives and carry 2000 riders on the run to Railroad Pass the first year.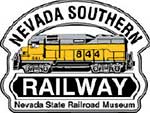 Annual ridership is now about 37,000 on the weekend runs plus the Special Trains — during December the Holiday trains all sell out, and carry some 10,000 passengers.
Three phases of development are planned for the Museum, with a mix of public and private financing. A federal grant is being sought to develop and maintain the biking/hiking trails, and the museum itself will be a mix of State bonds and private money.
Phase One is a $15 million Visitor Center/Passenger Depot at the now undeveloped east end of the property. Phase 2 is to be development of the access drive from Yucca Street into a landscaped greenbelt roadway, and phase 3 fills in the gap between the current platform and the new Visitor Center with more exhibits.