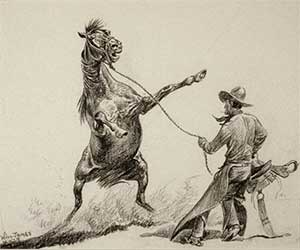 This exceptional museum offers visitors a look into the rich history of northeastern Nevada. It features a large collection of firearms, over 40 exhibit displays on the history of the area, animal habitat dioramas, and much more! Rare fossils from an American Mastodon are displayed in a replica dig site, and there are several exhibits representing the significance of the local Shoshone, Paiute, and Basque cultures in northeastern Nevada.
Most of the historic items on display have been donated by local residents and are directly significant to the area.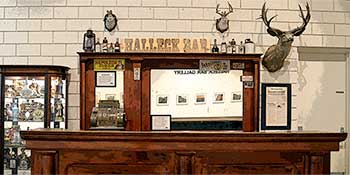 For example, the old saloon bar from the neighboring military community Fort Halleck is restored and displayed in the Halleck Bar Gallery. In order to keep this beloved relic, the museum is required to pay rent in the form of one bottle of Beefeater's Gin per year, served over the bar. Rent day began as a private ceremony, then developed into an annual invitation-only affair and is now open to the public with participants encouraged to attend in historic costume.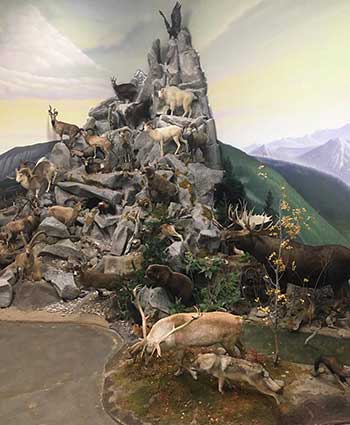 The Wildlife Wing is a large room filled with taxidermy animals from all over the world, posed as they appeared in life. The effect is unforgettable.
The Northeastern Nevada Museum is noted for the quality and variety of its western art exhibits. A collection of over 50 original signed Will James art works were donated to the museum's collection and are on permanent display. This is the second largest Will James collection in the world and includes drawings, watercolors, sketches, and first edition signed books.
Also on permanent display, the museum features ten etchings and watercolors by western artist Edward Borein who, along with Charles Russell, has been called the most authentic of all the early cowboy artists by virtue of his familiarity with the lifestyle. The museum owns a rare Ansel Adams collection, Portfolio One; Adams is widely known as the most famous American landscape photographer of all time. Don't miss Edward Weston's black and white depictions of human forms and simple subjects. His work represents a study of shape and light not seen before his time.
The Northeastern Nevada Museum has something to offer everyone. Visit the website or call 775-738-3418 to learn about upcoming programs and current exhibits.