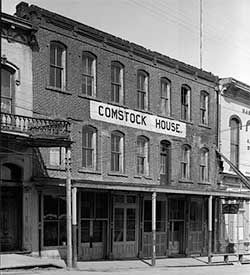 The Comstock House was a large brick hotel built on the west side of C Street after the Great Fire of 1875 and operated more or less continuously, following Virginia City's decline well into the 20th century.
In early 1965, some San Francisco refugees living in Silver City bought the old structure, decorated it, moved in upstairs,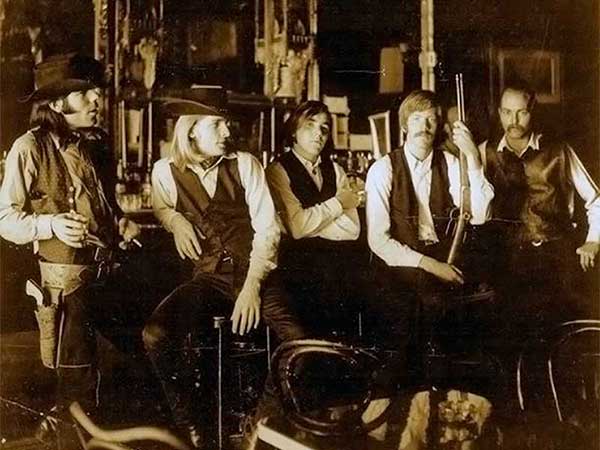 and went to San Francisco to look for a house band. There they found the newly formed Charlatans, who were looking for their first gig and got it in Virginia City. They came dressed for the part.
From the stage of the Red Dog they surprised everyone by introducing the world to psychedelic guitar band rock and roll — the start of something big humungous cosmic.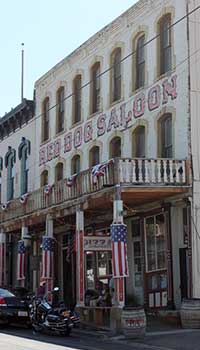 One of the participants created a simple system of colored lights triggered by the music: the first of the light shows that became the trademark of the era. In 1966 the house band was Big Brother and the Holding Company. Janis Joplin joined the band here and went on with it when it returned to San Francisco.
Eventually the impetus behind the hippie/psychedelic era in Virginia City waned, and the building was sold. It became Kitty's Long Branch and catered to the tourist trade for many years.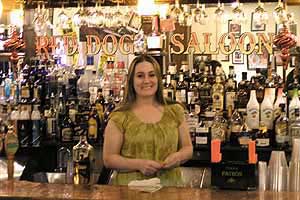 In the 1990s Richard and Mary Harris re-opened the Red Dog, but it was better known for its pizza than for its music. They moved on in 2002 and the Red Dog went into decline once again.
Now Sue and Loren Pursel have brought the historic saloon fully back to life, offering pizza, a full bar, open mic on Wednesdays and top musicians every weekend. It has become one of the brightest lights on C Street after dark, popular with Virginia City's visitors and locals alike.
Saturday night at the Red Dog —

Hungry? Take a bite of the Dog — Click the Menu to enlarge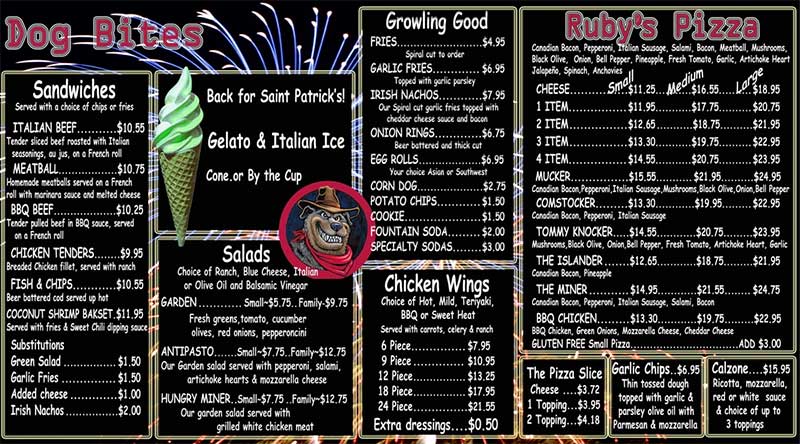 Read more about the Red Dog's storied past by clicking the links below:
1965:
Perfect Sound Forever e-zine This slightly clueless article provides an enthusiastic and more or less accurate telling of the Red Dog tale (surely there was no actress named Lucious Bebe).
NPR article Ed Ward tells the Red Dog story from the perspective of his personal knowledge of the music scene and its participants. Still, he misspelled Chandler Laughlin's name.
The Wikipedia account   More from Wikipedia   The Red Dog in decline   Dan Hicks comes back to play in July, 2000   Dan Hicks in Virginia City again (this time at Pierce Powell's V&T Freight Depot)   The Red Dog in further decline
Now:
The Grand Re-Opening as reported in the Reno Gazette-Journal
The Grand Re-Opening as reported in the Reno News & Review