Red Rock Canyon consists of 195, 819 acres (about 130 square miles) of BLM land with a variety of usual and unusual forms of desert vegetation and wildlife including Bighorn Sheep and wild burros, wind sculptured sandstone, picnicking and outdoor camping sites, and the striking Red Rock Escarpment, a 5,000-foot eruption of rainbow-colored pinnacles and boulders jutting up from the canyon floor. All of this is accessible by scenic drives, hiking trails and on horseback.
Take Charleston Boulevard 16 miles west of Las Vegas to the beginning of the scenic loop road. Entrance fee is $5 per car, which admits you to the Visitor Center and the 13-mile scenic drive. Red Rock Canyon is open year round, camping at primitive sites is limited to 14 days. There are no developed sites for overnight stays.
The first paved turnout is the Calico Hills Vista, a panoramic view of a massive clump of red sandstone hills cross-hatched by the wind. A short marked trail takes hikers to the bottom of a wooded and rock-strewn ravine where they can crawl over the same boulders that Paiute Indians called home 900 years ago.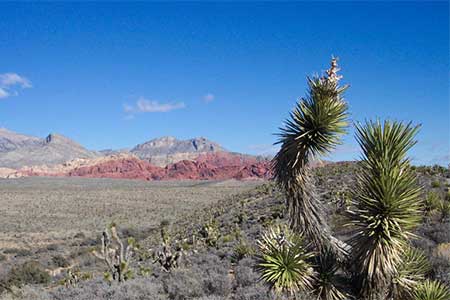 Paved viewpoints farther along give photographers exceptional angles of massive boulders, rock chimneys and rugged bluffs. All along here, the feeling is of stone giants towering above, ready to come crashing down at the slightest breeze. But rockslides are extremely rare in this area and earthquakes are unknown.
The Red Rock area varies in elevation from 3,500 feet to 7,500 feet and is a transition zone for desert and mountain flora  cacti and yucca in the low elevations through joshua trees and agaves in the next zone to oak trees on the lower escarpment slope and Ponderosa pines in the high elevations.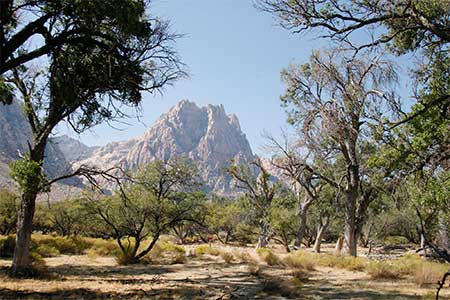 Spring Mountain Ranch is about 2 miles south of the Red Rock entrance. Before becoming a part of the Nevada State Park System in the mid-70s the rambling, country-style ranch and grounds were a seldom-used retreat for the mysterious Howard Hughes and his executives. Before Hughes it was the principal residence of Vera Krupp, widow of the notorious German munitions magnate, Alfred Krupp von Bohlen.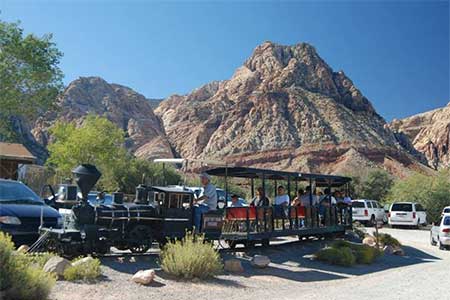 Bonnie Springs Ranch, about a mile farther south, is another pioneer ranch dating back to the 1840s, now doing duty as a western theme park with duck pond, petting zoo, motel, gunfights and hangings in the street, miniature railroad (the weekend shuttle from the parking lot), riding stables with guides and ice cream parlor that kids will enjoy.
Hours Of Operation
*Scenic Drive
– The scenic loop is open every day of the year with times changing slightly according to the season:
Nov – Feb – 6:00 AM to 5:00 PM
March – 6:00 AM to 7:00 PM
Apr – Sep – 6:00 AM to 8:00 PM
Oct – 6:00 AM to 7:00 PM
Please call (702) 515-5350 for exact times.
Visitor Center
The Visitor Center is open every day from 8:00 AM – 4:30 pm.