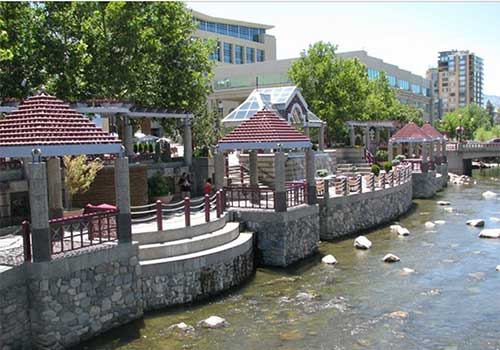 The City of Reno has worked hard at creating an inviting environment for the Truckee River coursing through its heart, while at the same time protecting against the floods that have devastated the city in the past, and the result is a great success.
Stop for a glass of beer on a sunny afternoon at one of the cafes that serve outdoors and watch humanity sauntering past in every size, color and style imagineable. Couples with strollers, old people, t-shirts with messages (in big letters: SHHHH. No-One Cares), family groups, teen-agers in pairs and in packs . . . people on parade.
The city was was born here at Lake's Crossing where Myron Lake's bridge brought the Virginia City road across the Truckee River.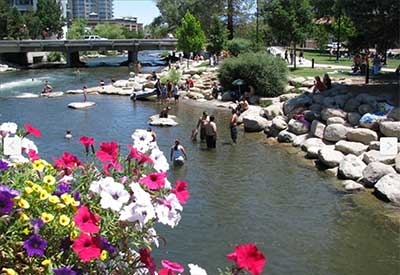 The Riverside, for 50 years one of the grandest hotels in the state, has been half-demolished and converted to artists' studios. The Mapes, built in 1948 as Nevada's tallest building, and the Harolds Club that Pappy Smith built into the biggest and best-known casino in the world, are both gone.
It's a new Reno now, bigger and broader, but its heart is still right here where it always was, and it wears the Virginia Street Bridge like a crown.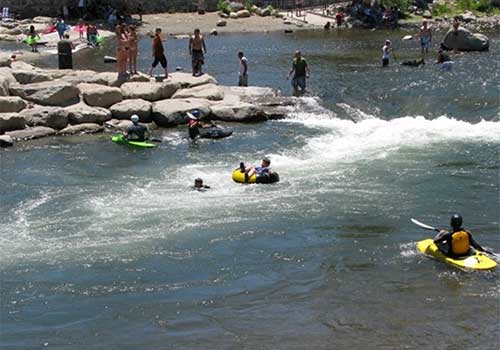 The River Walk extends east and west from the new Virginia Street bridge, and the blocks to the north have become quite cosmopolitan — a bit the way it was in the 1920s and '30s.
Eastward the path follows the river all the way through Sparks nearly to the enclosing hills. You'll pass trout fishermen if you walk this way. To the west it takes you to Wingfield Park, which is actually five parks: Wingfield (East Island), Brick, Bennett, Wingfield (West Island) and Bicentennial Parks. Within them you will find picnic spots, barbeques, basketball courts, the little amphitheater where the pleasing noon concerts are performed in the summer months, and the Truckee River Whitewater Park.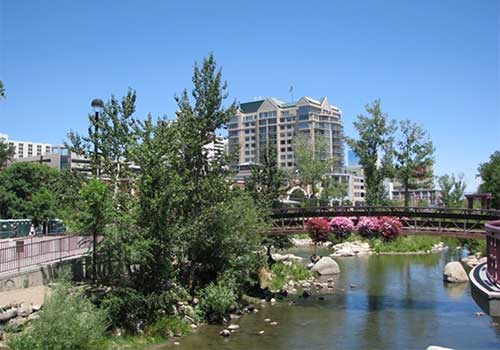 The walk continues across Arlington Street into the "City of Trembling Leaves", as author Walter Van Tilburg Clark described it. Here cottonwoods and elms shade rambling Victorians left over from a time when divorcees waited out an endless six-week residence for their freedom.
Continue on another pleasant half-mile to Idlewild Park with its rose gardens, broad lawns and ducky ponds. The trail proceeds on, and on, and on, and on about as far as you're prepared to hike, with a small picnic and rest area at its end, many miles from Lake's Crossing.