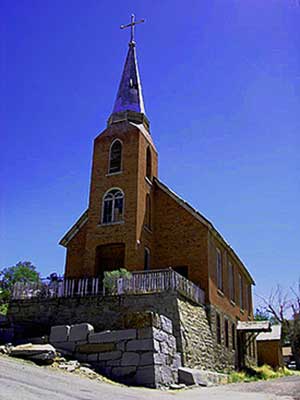 St. Augustine's Catholic Church in Austin is Nevada's oldest Catholic church building (1866) and perhaps its finest.
Built into solid granite on a prominent hill in Austin's narrow canyon, its stately appearance is dominates the view. The wood and tin-clad spire rises 75 feet in th narrow Gothic Revival style. The granite used in construction came from the old Austin quarry and its bricks from brickyard that flourished in the 19th century.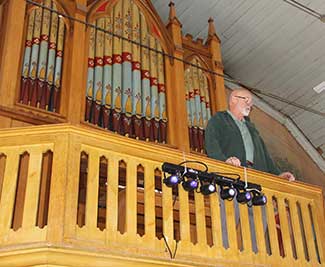 The interior retains many early features including Gothic confessionals, grained pews that can accommodate more than 200 persons; the former altar area is a stage-sized platform. The church features the only known, intact Henry Kilgen pipe organ in the world, a decoratively painted nine rank pipe organ in a Gothic case.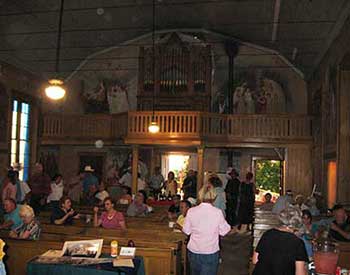 In 1939 the parish hired Rafael Jolly to paint murals for the interior, and the vibrantly colored scenes of events in the lives of Christ and St. Augustine are today the building's artistic highlight.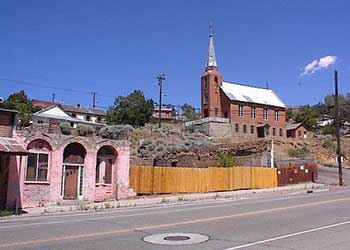 A local resident, Jan Morrison, formed a nonprofit organization to restore and renovate the structure, and then saw the project through a 10-year, million dollar restoration to ready the Church for another 148 years as a gathering place in central Nevada.
St. Augustine's is listed on the National Register of Historic Places, the Nevada Register of Historic Places and is a 501(c)3 nonprofit organization.