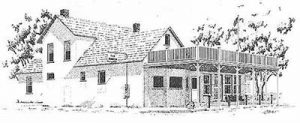 Built originally as a residence, and then morphing into a boarding house catering to Basque sheepherders, the Martin is listed on the National Register of Historic Places, The Martin's dining rooms served heavy passenger and commercial traffic generated by the adjacent Southern Pacific Railroad. As a rooming house it was once a favorite place for area stockmen to stay on their visits to town. It's now famous enough for its classic menu and historic ambience to be a favorite with highway travelers too.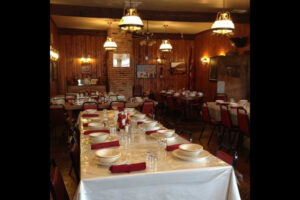 The Martin's family-style Basque dining room, bar and meeting rooms are still a favorite gathering place for area ranchers, townsfolk, and travelers alike. With its unique stucco exterior, familiar veranda, and hitching posts, and its interiors covered with an amazing variety of pressed tin walls and ceilings, the Martin Hotel offers a pleasant setting or an authentic family-style Basque American meal.
Dinner: Mon-Sat 4 pm – 9 pm, Sun 4 pm – 9 pm | Lunch: Mon-Fri 11:30 am – 2 pm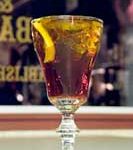 At the Martin, try the American Basque's favorite refreshment, the Picon Punch, a delicious cocktail with a subtle orange flavor. Our every day lunch specials are: the famous Nancy Burger (best burger, period) Martin wraps: beef, chicken, salmon or lamb, and of course our world famous Lamb Shanks.
Follow us on Facebook right here for our specials for each day —