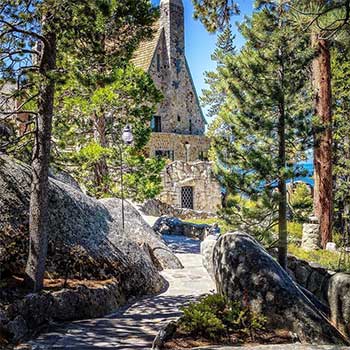 More than 10,000 visitors experience the George Whittell Estate each year, Nevada's only National Historic District at Lake Tahoe. The Estate's public tours and educational programs offer a window into the region's past: Native American, westward expansion, Anglo settlement, lumbering, mining, railroading, maritime transit, rusticating, tourism, casino gaming, conservation, real estate development, environmental activism and recreation all intersect here.
Whittell secured the 45,000 acre estate from development and thus the Nevada shoreline remains pristine and open.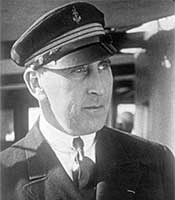 Thunderbird Lodge is the epicenter of the Estate's 12 historic buildings, designed in the Tudor revival style to be a summer residence for the Captain's guests and his beloved animals, which included his constant canine companion, a very special lion, and an elephant among others.
Constructed in 1936 and resplendent in period furnishings, the Lodge is a tribute to the enigmatic Whittell, a sportsman and industrialist turned conservationist with a penchant for secret passages, wild creatures, salacious soirées, exotic motorcars, boats, aircraft and innovative technology of all kinds.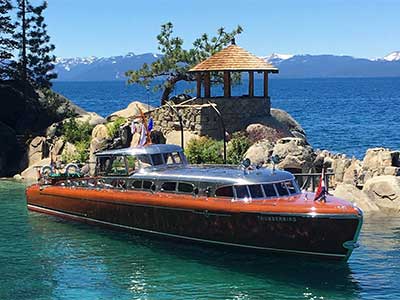 The Thunderbird yacht may be the most famous (and most expensive for its time) wooden speedboat in existence. Built in 1939 for a then pricey sum of $81,000, the yacht is worth $5.5 million today. It Is powered by twin Allison engines from World War II P-38 fighter planes.
Extensive collections and archives pertaining to the greater Lake Tahoe area — including th Bonanza TV Show Collection — make Thunderbird the de facto repository for the region's memorabilia.
Drawing from more than 25,000 objects, Thunderbird has truly become the Museum of Lake Tahoe art and history. We will soon launch one of the nation's first digital museums to showcase Lake Tahoe's cultural and environmental history to researchers and audiences worldwide.
Tours of Thunderbird Lodge

Public tours of this National Register Historic Site are available by land, by tour boat, or by kayak, Tuesdays through Saturdays midMay – midOctober.Docent-guided tours take visitors on an hour and 15 minute walk through the stone mansion and grounds to reveal the mystery and legacy of the enigmatic George Whittell, Jr.

For all land tour reservations call (800) GO TAHOE, book on-line here or visit us here. Tours are available Tuesday – Saturday. All land tours depart from the Visitors Center in Incline Village.


For boat tour reservations, please phone Cruise Tahoe at (775) 230-8907 or visit CruiseTahoe.com. Only for guests ages 6 and over.

Shuttles depart Incline Village Crystal Bay Visitors Center: 969 Tahoe Blvd. (Highway 28), Incline Village. $45 per person, $19 for children ages 6 – 12.

Boat tours aboard the historic vessel Tahoe depart from Zephyr Cove Tuesdays through Saturdays. $139 per person and $59 per child ages 6-12 include a continental breakfast, estate tour, and lunch on the grounds.

Reservations are required for all tours by shuttle bus, boat, or kayak and are made through the Visitors Center in Incline Village. Lasting approximately 90 minutes, comfortable shoes and warm jackets are recommended for this 1/3 mile walking tour.
*Tours: Tues – Sat, May through October. Private group tours are available year-round. Reservations are required for all tours.