This unique attraction gives visitors a good look into the big central Nevada mining boom of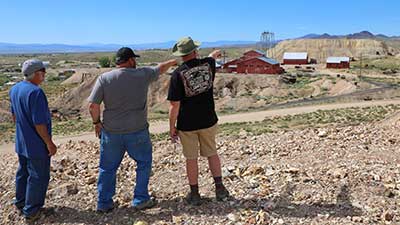 the early 20th century. More than a look: you can touch it. You can walk right into it. More than 100 acres embrace four of the original mines on the gritty hillside on the east side of town and all of the structures here are open seven days a week for visitors to step into and experience for themselves.
The mines in this district produced more than 5,000,000 tons of ore, worth more than $1,200,000,000 in today's value.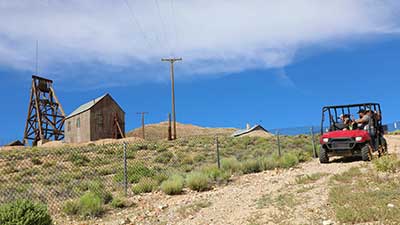 The Visitor Center is also open every day for self-guided tours and guided Polaris tours.
The Gift shop has a bookstore where the many facets of the mining past are explored amid displays of historic mining equipment with a small movie theater. Short-wave ultraviolet lights enhance the colors of the mineral display. New exhibits are added frequently and restoration of existing buildings is ongoing.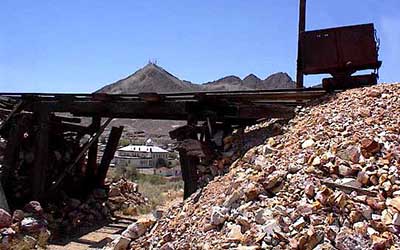 The Tonopah Historic Mining Park is located on the site of the original mining claims that started the rush to Tonopah, making it "Queen of the Silver Camps".  Jim and Belle Butler's strike in 1900 brought the United States into the 20th Century, and many of the mining processing techniques developed during that time are still being used today.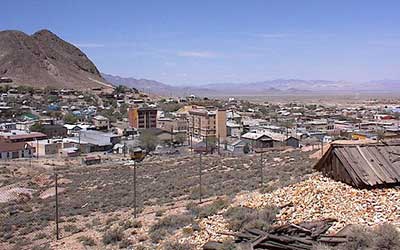 The park encompasses portions of four of the original major mining companies and covers more than 100 acres overlooking the city.  This rich history is brought to life through preserved and restored equipment and buildings, historic exhibits, video presentations (in our on-site theater), and a self-guided tour.
All of the buildings located on the property are open for our visitors to enjoy.  You can experience for yourself how it was to work in a turn-of-the-century mine.  The grounds are constantly changing.  New exhibits are added frequently and restoration of existing buildings is ongoing.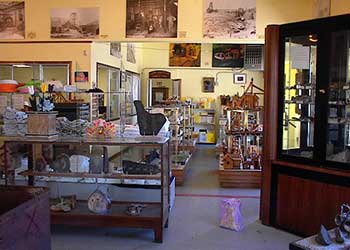 The underground tunnel features a walk down a mine tunnel that intersects one of the original discovery stopes. Named the Burro Tunnel, the "Underground Adventure" is not for the faint of heart!  At the end of the tunnel, visitors are able to step into a steel viewing cage and look down the 500′ deep stope.
he Visitor Center has a bookstore, displays of historic mining equipment and a small movie theater. The black light mineral display has just been greatly expanded and now features short-wave ultraviolet lights which enhance the colors of the display.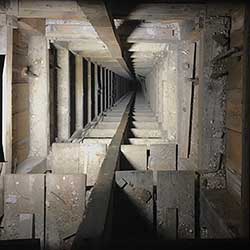 One exceptional experience awaiting visitors is the walk into the Burro Tunnel. A hundred years ago this was a busy workplace, and to walk in the footsteps of the miners along the length of the tunnel gives you a sense of what they had to confront, and shows you how they did it. At the end of the tunnel a surprise awaits: If you wish, step into the steel viewing cage and look down into the 500′ deep stope they mined out.
Download Information Guide
Self Guided Walking Tour Map
Visitors to the park will carry some of its stories home with them — the story of the discovery by Jim Butler in the spring of 1900 that resulted from his frustration with a wandered-off burro, and Jim's ingenious method of financing development of the mines on this isolated hillside during a time of tight money.
Mining Park Hours
Open 7 days a week
9 am – 5 pm
Closed all Federal & State U.S. Holidays.
Small and large groups are welcome.  Please call (775) 482-9274 at least 48 hours ahead of scheduled visit.
Mining Park Rates
Visitor Center & Movie
FREE
Mining Park Gate Fees (Self-Guided Walking Tour):
$5.00  for Adults
$3.00  for Senior Citizens (60 and older), Children (8-17) & Locals.
FREE  for Children 7 and under
FREE  for Active Military & Veterans
$1/child for School groups-chaperones FREE
Contact park staff for other groups
Guided Polaris Tours (includes Gate Fee)*:
Handicapped Visitors  FREE
1 person:      $12.00 =$12/person
2 persons:    $20.00 =$10/person
3 persons:    $27.00 =$9/person
4 persons:    $32.00 =$8/person
5 persons:    $35.00 =$7/person
*Discount per Active Military Member/Veteran = $5.00 on Polaris Tours; We apologize for any inconvenience, but discounts cannot be applied on gift certificates for Guided Polaris Tours.