Open year round, Valley of Fire State Park is named for the red Aztec sandstone cropping out of gray and tan limestone.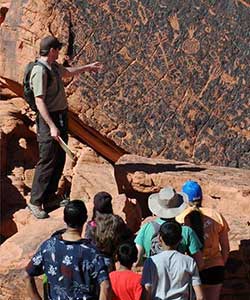 The sandstone is from the Jurassic period and is what Mom Nature did to a mountain of sand like the one east of Fallon on US 50, except the sand was red.
The park currently embraces more than 45,000 acres of multi-colored rock in a varied array of shapes and textures. It contains ancient, petrified trees and petroglyphs dating back more than 2,000 years.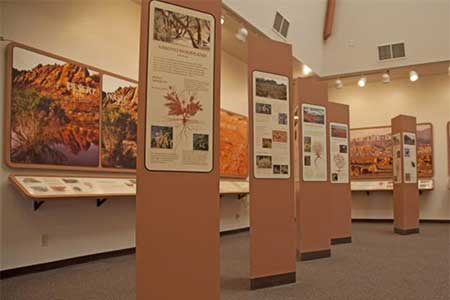 A Visitor Center provides exhibits on the geology, ecology, prehistory and history of the park and nearby region.
The park also hosts an Annual Atlatl Competition in which participants test their skills with replicas of ancient spears. The park has numerous campsites equipped with shaded tables, grills and water, as well as many intriguing trails to tempt hikers. Official page is here.
Humans ventured into southern Nevada as long ago as 11,000 years; people we call the Basketmakers carved art into these rocks some 2,500 years ago. Paiutes were living in the region when Mormons settled the south end of the Moapa Valley in 1865.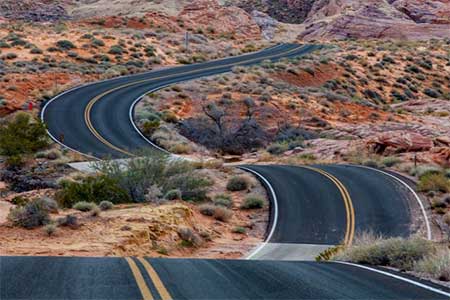 Humans ventured in by automobile in 1912 when a rough road was built as part of the Arrowhead Trail connecting Salt Lake City with Los Angeles. In the 1920s the original Valley of Fire tract of 8,500 acres of public land was given to the State of Nevada for development as a park.
In 1933, the Civilian Conservation Corps built the first facilities and campgrounds in the park, and it opened Easter Sunday 1934 as Nevada's first state park.
Valley of Fire State Park is a public recreation and nature preservation area covering nearly 46,000 acres located 16 miles south of Overton, Nevada. To get to Valley of Fire State Park travel on Interstate 15 then turn south on NV Highway 169 past Overton then turn west on Valley of Fire Highway.