Battle Mountain EventsAwaiting you in Battle Mountain

Mining and agriculture have long been the basis for Battle Mountain's economy, and the town has managed a rather staid existence since 1870 when the population of Argenta deserted their little mining settlement and re-established themselves at Battle Mountain Station on the Central Pacific Railroad.
In 1880 the Nevada Central Railroad was completed through the length of the Reese River Valley to the south, connecting Austin with the transcontinental line, and in the following year a short line was built to the mines at Lewis.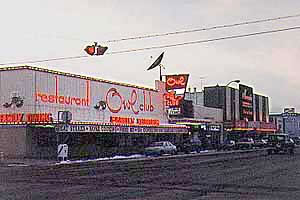 But the BM&L lasted less than a year, and the Nevada Central was only profitable as long as the mines at Austin were operating at full capacity. By the middle 1930s most of the mines that generated traffic at Battle Mountain had been shut down and boarded up, and the NCRR had passed into receivership for the last time.
Battle Mountain's 30 year snooze by the side of US 40 ended abruptly in 1967 when the Duval Company invested more than $20 million in the development of large copper ore bodies in the mountains to the south. All at once Battle Mountain became a boomtown in its own right: the schools overflowed, the sewer system burst its seams, the municipal wells began pumping sand and the cost of policing the town doubled.
Things have quieted down in the years since. Duval gave up on copper and sold the mine, leaving Battle Mountain in slow times again. Ironically perhaps, it's here the "Fastest Man on Earth" can be found each September.
That's when Battle Mountain hosts bicycle races on the straight, flat stretch of highway 305 about 15 miles south of town.
This isn't bicycling the way the paper boy did it in your grandfather's day, this is the way Elon Musk might do it tomorrow. The bikes are streamlined kevlar pods designed purely for speed, and the event is known as the 'World Human Powered Speed Challenge'.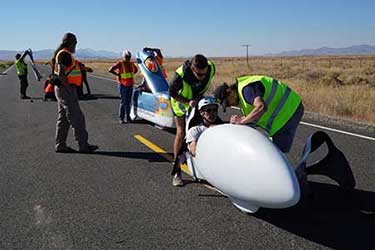 Eight world Human Powered speed records have been set in Battle Mountain. Most recently Todd Reichert of Canada broke his own record — 86.65 mph, set last year breaking the Delft/Amsterdam team's record of 83.13 mph set here two years previously — with a speed of 88.26 mph.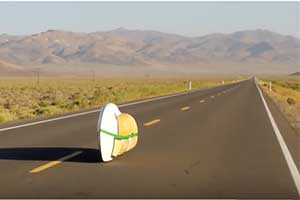 It seems inevitable that on a day not far off, when all the factors are benign, a human being from Japan, the Netherlands, Canada or somewhere else will achieve 90 mph on a bicycle — and when that happens it will be in the high desert of Nevada, on Highway 305 just south of Battle Mountain.
BATTLE MOUNTAIN EVENTS
There are no upcoming events.