Mesquite EventsAwaiting you in Mesquite
For its first century Mesquite was a hard-working farm town of considerable reputation in agricultural circles, unknown otherwise.
Then in 1980 this sleepy little community two miles west of the Arizona line began to sprout neon, add asphalt and show other signs of becoming a new Nevada boomtown. Si Redd built the Oasis Casino Resort and the boom was on.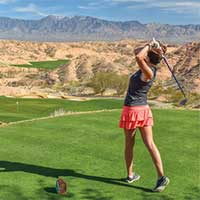 There are four major casino hotels now with casino games and slot machines galore, but in Mesquite the name of the game is golf. With four major league golf courses drawing golfers from St. George and southwestern Utah and the Las Vegans who enjoy a respite from the supercharged surroundings of the city, and you've got some serious golfing going on.
Now, after more than a century of hardscrabble farming and more than two decades in the resort business, Mesquite has proclaimed itself the new — no, not Las Vegas! — Palm Springs.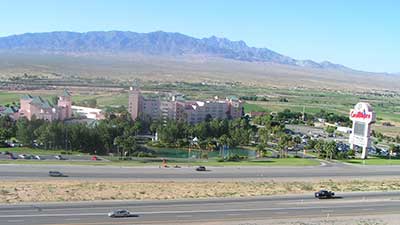 It's so easy and enjoyable in Mesquite now that it's hard to realize what a struggle life was for the first settlers here. At the wonderful Desert Valley Museum, on Main Street, you can get a sense of how it was before golf. It was so hard that after 15 years only one family remained: Dudley Leavitt, his five wives and 51 children. In 1897 five newly-wed couples from Bunkerville joined the Leavitts at Mesquite, erecting a tent to serve as school, church and town hall, with three more long years before the first frame buildings were built.
[/vc_column_text][/vc_column][/vc_row]