Pahrump EventsAwaiting you in Pahrump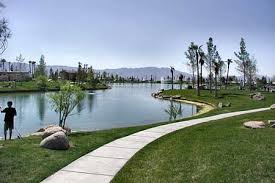 Modern Pahrump is a rambunctious little city, a fast-growing community that attracts refugees from Las Vegas, Los Angeles and other urbs. Much of it still the modest pioneer amalgam of mobile home, cinder block and crackerbox; lately, though, modern features are increasingly conspicuous — there's a two-story bank building, four bright casinos compete for attention along the highway (Nevada 160), and there are tasting rooms at two local wineries now. There are traffic lights, city-sized supermarkets and shopping centers, and asphalt is covering more of the gritty downtown acreage than ever before. Critical mass is being achieved.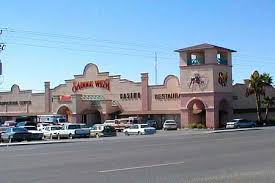 In the 1880s, Aaron and Rosie Winters, discoverers of the vast borax deposits in Death Valley, retired to a ranch in this oddly named valley (it means Rock Water in the Southern Paiute language) an hour's drive west of Las Vegas, where they grew grapes and made wine.
By the time the ranchers in the valley managed to attract a Post Office in 1891, most of them were growing cotton, and for the past several decades lettuce, golf and retirement real estate have been the main cash crops.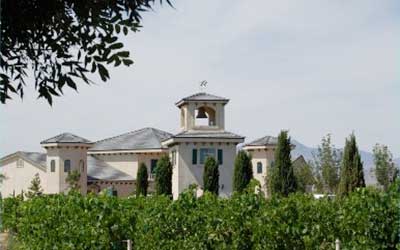 More than a century after the Winters pioneered it, winemaking returned at the Pahrump Valley Vineyards. The distinctive Mission-style structure — but with a bright blue roof! — occupies a prominent place on the slope below Mount Charleston. Concerts and other public events are held on the tree-shaded grounds; the biggest of them is the annual Grape Stomp, held on the same weekend as the Pahrump Fall Festival, Pahrump's annual celebration of itself. The Sanders Family Winery is now producing several varieties of reds, whites, a rosé — even port!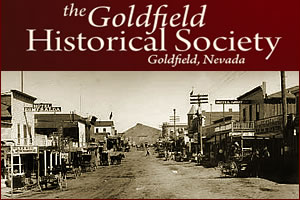 There are two 18-hole golf courses, and an inviting park with picnic tables and a swimming pool.
Pahrump is on the major Las Vegas-Death Valley route, and you can make an enjoyable loop trip by taking Nevada 372 west from Pahrump to Shoshone and then north on California 127 to Death Valley Junction. Back into Nevada at Amargosa and on another 16 miles to Lathrop Wells and US 95. Turn south and continue into Las Vegas or return to Pahrump via Nevada 160.