Wells EventsAwaiting you in Wells

The California Trail joins the headwaters of the Humboldt River near the present site of Wells, and this region saw the westward passage of the covered wagons until the coming of the railroad. In September 1869 Humboldt Wells was established as a station on the Union Pacific Railroad: a Wells Fargo office, a log shanty saloon, and the station office in a boxcar.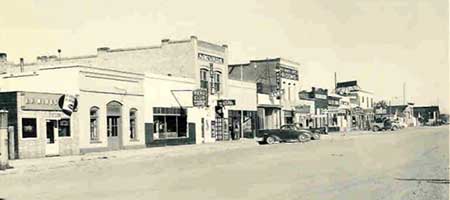 By 1872 stores and hotels had been added along the single business street paralleling the south side of the tracks, and stagecoaches ran south into White Pine County three times a week. Devastating fires in 1877, 1881 and 1900 interrupted development, and lacking any business beyond that provided by the railroad and the ranches, growth was very slow.
Since the 1940s, Wells, like many of the old railroad towns, has slowly shifted its center away from the railroad tracks, first a block south to US 40 and then in the 1980s the agonizing stretch toward the I-80 offramps. The last business on Front Street — Quilici's Market, a 60-year institution — closed in 1991.
Front Street Before the Earthquake
After the Earthquake
Now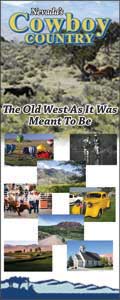 Injuries were few, a broken arm the worst of it, but many of the buildings were badly damaged. Ironically, they were as strong a tourist attraction as ever, drawing rubber-necking travelers past the fenced-off row of buildings. Now they are gone.once the bustling center of activity in the little pioneer city, were cleaned up and painted in an approximation of their bright youth. But in February, 2008, a 6.0 earthquake rolled beneath Wells and devastated the old commercial center.
Wells' prosperity these days is solidly based on the crossroads created by I-80, a major east-west highway, and U.S. 93, which extends from Alaska to Panama. The former US 40 — 6th Street — is still Wells' principal boulevard, so peaceful that it seems to tame everything within view. But Wells is not far from the bobcat's lair and the eagle's nest; during a recent visit a mating pair of great horned owls was entertaining onlookers on Sixth Street.
The vast lawned City Park across from the high school provides picnic tables and barbecue grills and a comfortable romp with the kids. There is also a swimming pool, a children's playground and a "pleasantly undemanding" 9-hole golf course. All the necessities and some of the luxuries are available, and the Trail of the 49ers Museum and Visitors Center is handy and helpful.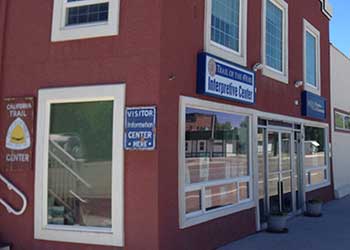 You can travel on the California Trail northeast of Wells by taking Highway 93 north 26 miles to the well-marked Winecup Ranch turnoff to the east, and continuing 15 miles to the sign-marked Mammoth Ruts. This is a section of the California Trail, worn down as much as six feet below the floor of Thousand Springs Valley, one of the few places where the passage of the pioneers can still be seen today.