Beatty is known as the Nevada gateway to Death Valley. Beatty has a sunny disposition and comfortable country ways, but offers some urban touches too. Good dining and lodging opportunities and auto services, Beatty is well equipped to serve the travelers on US 95.
FOUR YEARS AFTER the discovery of silver ore at Tonopah, and two years after the fabulous discoveries at Goldfield, prospectors organized the Bullfrog Mining District and established a number of small communities, Beatty among them. Because of its favored location astride the Amargosa River (which makes most of its long winding way to Death Valley underground), Beatty survives while the livelier mining towns of Bullfrog and Rhyolite are dead.
Beatty's environs -- including Death Valley National Park -- are among the most spectacular in the world, and Beatty is a good base for exploring the southwestern Nevada countryside. Beatty is the first community of size north of Las Vegas, and as a headquarters for exploring and rockhounding. An information station for Death Valley National Park is located just west of the stop sign at the center of town, and the Chamber of Commerce is a short distance to the east of the sign.
For travelers on US 95 there are three parts to Beatty: on the north side the Stagecoach Casino Hotel is augmented by a big gas station and candy shop. At the intersection and turn at the center of town is Gema's Cafe and the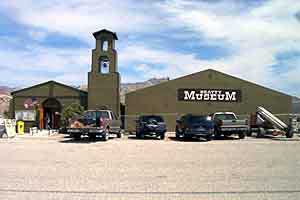 Free Parking sign from the old Silver Slipper on the Las Vegas Strip. On the south side is the new Death Valley Inn. Motels, couple of restaurants, a small grocery store, and services for motorists are available.
The enclosed hot spring pool at Bailey's on the north side of town is open to visitors for a small fee, or stay in an RV space and your soak is included.