Old West Murals in Downtown Elko

In November and December, eleven photo murals were installed in downtown Elko. These photo murals, taken by Deon and Trish Reynolds of Eureka, showcase life in rural Nevada. The photo murals pictured here are in the alley behind the Western Folklife Center. Deon and Trish will give a walking tour of the murals on Friday Feb 3rd from 9:30 – 10 am and on Saturday Feb 4th from 8:30 – 9 am. They will also have a pop-up gallery at 225 Silver Street Suite #105 across from the Star Restaurant during the Cowboy Poetry Gathering (see below). A big thanks to the Western Folklife Center for organizing the murals, and NV Energy and ArtPlace America for providing funding.

Real Stories, Straight Up

The 33rd National Cowboy Poetry Gathering is underway as this edition of the NevadaGram comes out, and there is still time to get tickets and enjoy the week-long celebration of Western Life. The Gathering features a week of varied events — poetry, music, art, discussions, dances, and workshops. This year's theme is " Real Stories, Straight Up," and the storytellers and poets that are lined up are bound to please. Visit the Western Folklife Center  to see the whole Cowboy Poetry Gathering schedule and to buy tickets online. There are many other "satellite" events and shows around town hosted by other groups and businesses that are also worth checking out. These include the Wild Women Show at the Duncan Little Creek Gallery, the Native American Market at the Girl Scout House, and a Western Art and Gear Show at the Stockmen's Hotel.

Time to Ski the SnoBowl

Winter Skiing and Snowboarding at the Elko SnoBowl has been underway since New Years. The recent storms have put down some good snow and the skiing is fun. This small ski hill is located 5 miles north of Elko on North 5th Street. There is one chairlift and a rope tow on the bunny www.snobowl.org/slope. Check out the Elko Snobowl Facebook page. Before you head up the hill, call (775) 777-7707 for Roche's Report. He will give you the latest and greatest regarding days and hours of operation, and a summary of the conditions at SnoBowl.

— Doug Clarke

The post Elko Correspondence – February 2017 appeared first on NevadaGram from the Nevada Travel Network - Telling Nevada's story 365, 24/7.





Founded as a railroad-promoted townsite in 1869 and railhead for the White Pine mines, Elko has served for generations as the provincial capital of an enormous cattle ranching empire embracing parts of four states. Despite the steady growth in size and importance of the livestock business in the valleys around Elko, however, the town's affairs did not brighten much until 1907. In that year the Western Pacific Railroad extend its rails to Elko, and mining activity revived in half a dozen camps that relied on Elko for freight and services. The price of beef went from three-and-a-half to eight cents a pound, and wool from four to 60 cents a pound. In ten years Elko's population had nudged up toward 3,000.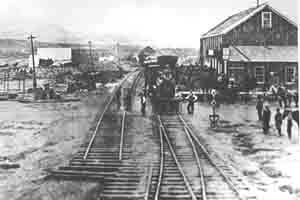 CPRR reaches Elko 1869
Prosperity continued until the devastating one-two of the failure of the Wingfield banking chain and the national Depression which followed immediately after. Caught in the machinery activated to sort out the bank failure and bled by the decline in livestock prices, many of the ranches around Elko were
foreclosed. In 1931, the beef and wool economies in chaos, gambling was made legal by the state legislature. Elko, like towns everywhere in Nevada, had a new industry, and unlike most, it had an entrepreneur to make the most of it. Newton Crumley had operated saloons and hotels in Tonopah, Goldfield, and Jarbidge before he settled in Elko in 1925 and bought the Commercial Hotel. He and his son, Newton Jr., operated the hotel with an eye toward the future.
By 1937 they had added a two-hundred-seat cocktail lounge to the Commercial, and in 1941 they hired Ted Lewis, the "High-Hatted Tragedian of Jazz", his orchestra, and his 21-person Rhythm Rhapsody Review for an eight-day engagement. After Lewis came Sophie Tucker, then Skinnay Ennis and his band. For drowsy little Elko, more than 250 miles from the nearest radio station, the situation was stunning. Even more impressive was the effect on automobile traffic along U.S. 40: few travelers passed through Elko without a detour into the Commercial.
In 1946 the Crumleys began "remodeling" a ten-foot wide root beer stand into the sixty-eight room Ranch Inn Motel-Casino (at that materials-short time after WWII, new construction was prohibited but remodeling was permitted). The Crumleys had the largest non-ranching payroll in Elko County after the railroads. With ranching restored to prosperity, with gambling and big-name entertainment adding a cosmopolitan flavor, and with newcoming ranchers like Crosby, Joel McRae, and Jimmy Stewart providing glamor and sophistication, Elko entered a golden age at the end of the 1940s.
A visitor's best first stop is at Sherman Station, an enormous log house brought to Idaho Street from its original location in a faraway valley. It serves now as Elko's Visitor Center where you can get current local information of all kinds.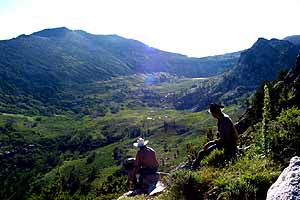 Elko is at the center of a magnificent natural wonderland.
You still see lots of broad-brimmed hats here. Elko is a western city, and it still wears its history out in plain sight;
Capriola's Saddle Shop
,
Anacabe's Elko General Merchandise
, and the
Star Hotel
are still going strong — but it's unmistakeably modern too, with
Cucina Fresca
around the corner on Idaho Street, big box stores on the outskirts and lattes everywhere.
The magnificent Ruby Mountains press up against the southern sky like Alps, and the country around Elko offers outdoor adventure of every kind. There are countless opportunities for hunting, fishing and hiking, and ATV trails are plentiful. There's cross-country and even heli-skiing in winter. It's hard to avoid having a good time in Elko.