Ely
is located where the southern end of the magnificent Steptoe Valley meets foothills of the Egan Range, at the conjunction of
Highways 6
,
50
and
93
. Ely offers many excellent lodging, dining and recreation options in marvelous natural surroundings.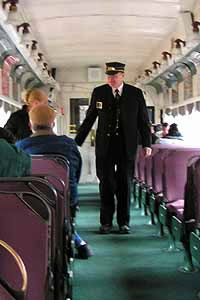 Ely's greatest attraction to visitors is the Ghost Train, the Nevada Northern Railway that takes passengers from the old depot in East Ely (take 11th Street north from Highway 93/Avenue F/Aultman Street) on excursions west to Ruth and northeast to McGill from Memorial Day through Labor Day. Additional trains are scheduled during the winter months, the Polar Express has Santa aboard, and the Photo Shoot specials in February attract photographers from around the world. No wonder: Magic happens as the antique steamers chuff solemnly away from the station. Wheels clickety-clacking, cars swaying, the world gliding slowly by, kids waving from their bikes, cows looking up in dim curiosity, sky spread big and bright overhead — it's a unique and delightful experience for its own sake, and even more for being the real thing, not a reconstruction or a restoration.
In addition to the scheduled runs, trains can be rented for special excursions, and tours are taken through the enormous shops, offices, depot, engine house and other facilities from Memorial Day weekend through Labor Day weekend. paid for, demolished, swept away and replaced by the modern new hotel you see next door to Harrah's and the base station for the mountainside trams.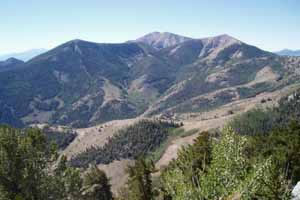 Many of Ely's downtown buildings are distinguished by murals, most of them sponsored by the
Ely Renaissance Society
, a group formed after the closure of the big copper mine eliminated more than 400 local jobs. The murals were intended to help spruce up the 11-block central core of the city, and to create a new attraction that would help bring visitors. Depicting a variety of local subjects in a variety of styles, the murals and other outside art provide a pleasant and interesting stroll.
Friday's was home station for Pony Bob Haslem, the messenger whose famous ride -- 380 miles on horseback through hostile Indian territory -- ranks as the outstanding feat of that spectacular organization. Burke and Small also controlled the toll road franchise past their expanded station, and collected as much as $1,500 a day in the peak months of the Comstock traffic before the railroad. The Pioneer Stage Line used the station as a horse change and dinner station as well.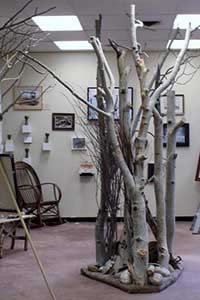 Another great attraction is the magnificent surroundings. Great Basin National Park provides an obvious and rewarding destination, but there is no limit to the outdoor recreation here. Hunting, fishing, camping, hiking, exploring, cross-country skiing and anything else you enjoy doing outdoors is available in the countryside around ,a href="http://www.elynevada.net/" alt="Ely Chamber of Commerce" target="_blank" rel="nofollow">Ely Chamber of Commerce information is available on Aultman Street.
You can make a quick — perhaps two hours if you can do it without stopping along the way, or bring your fishing gear and a camera and take all day — tour of the high country by taking the Success Summit Loop Road through the Schell Creek Range. Access is via U.S. 6/50/93 east out of town. The road winds north past several campgrounds in the forested heights and takes 33 beautiful miles to find its way back to US 93 north of McGill.