Tonopah sprang to life in 1900, just as the mining excitement at Nome, Alaska, was tailing off.
THIS ESMERALDA County seat was exuberantly (and briefly) named Grandpah by its enthusiastic founders in 1902. Two years later Goldfield was producing $10,000 a day, and two years after that it was a bigger city than Tonopah. On Labor Day in that year saloonkeeper Tex Rickard promoted a prize fight for the Lightweight Championship of the World between Battling Nelson and Joe Gans. He offered the biggest purses in the history of prize fighting: $20,000 to the champion Nelson and $10,000 to Gans, the black challenger.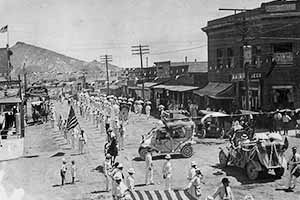 It was hailed as "The Fight of the Century" in the national press, and reporters from the east coast papers joined writers from the Pacific coast at ringside. The fighters battered each other for 42 punishing rounds before Nelson, bloodied and sagging, fouled Gans in a clinch. It was "as dirty a foul as was ever witnessed by spectators at ringside," the Goldfield Sun reported. Gans was awarded the victory and the championship — and used his prize money to build The Goldfield Hotel in Baltimore — but the big winner was Tex Rickard. The $72,000 gate was a record, and the fight was the first in a long career of prize fight promotions that took him eventually from his Northern Saloon in Goldfield to Madison Square Garden in New York City.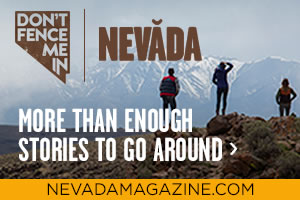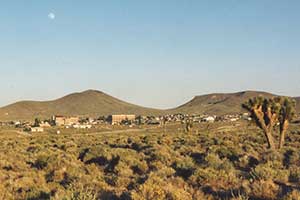 By 1910 the Goldfield mines were in decline, but at its peak of prosperity Goldfield was an eccentric combination of wild western boomtown, and decorous, respectable city. There were miners and prospectors and saloon roughs, plenty of them, but there were also stenographers and telephone operators, shoe-shine boys and stock brokers. Goldfield was the largest city in Nevada and the Goldfield Hotel was the most opulent stopping place between Kansas City and the Pacific Coast.
In September, 1913, a flash flood wrenched houses from their foundations and laid waste whole neighborhoods. In 1918 Goldfield was the stone husk of a city left in the desert to die, and it died badly. In 1923 a fire blazed up to make ashes of 53 square blocks. Abandonment and decay have accounted for much of the rest. Today only a small village remains alive in the heart of this once great city.