The Nevada
Travel Network

Visitor's Guide to
Mesquite
Mesquite is home to all things spherical during the month of February.  Soccer, baseball, and golf dominate the emerald green sports fields and courses around town.   If you haven't played a round of golf on Mesquite's super courses, you have missed out on some of the best golfing in the USA.  Pickleball and tennis have made a comeback in town, with courts available at city parks.  Get into the swing of it all!  Check out the youth soccer and baseball/softball schedules at www.mesquitenv.gov/calendar.

                                                                                                   Yucca in bloom

Nearby Gold Butte is not just a remote place anymore.  Declared Gold Butte National Monument by President Obama on Dec. 28, it now joins its adjacent Arizona landmass, Grand Canyon-Parashant National Monument, as wide open space that is protected from commercial development, mining and other commercial enterprises.  This popular hideaway can be accessed by taking I-15 Exit 112 and heading south across the Virgin River.  Be sure to drive a sturdy vehicle with a full gas tank.  Turn right on Gold Butte Road after you cross the river and be prepared for adventure. No improvements are yet planned for the new monument, so services are non-existent.  No gas, no water and no restrooms.  The one thing in abundance is exquisite natural beauty, and this is a place where wonderment will never cease.

                                                             Bearpaw Poppy

February is generally the start of desert flower season, and Gold Butte shows off its bloom In a glorious array of colors.  The rare bear paw poppy is one of the endangered species that thrives in the gypsum soil of Gold Butte. Yuccas and Joshua Trees are abundant on the bajada of the Virgin Mountains as it slopes down to the shore of Lake Mead.  Don't be too disappointed if you miss the unpredictable spring bloom, as there is lots more to explore and enjoy.

Gold Butte was home to Native Americans for thousands of years, and signs of their habitation are still in evidence in petroglyphs and other subtle signs of residency that are revealed to those who have studied the early cultures of the region. Regardless of politics, and there are lots of opinions about the creation of this monument, all will conclude that this is a special, significant area that leaves its imprint on one's soul.

                                                                                          Blooming Hedgehog Cactus

— Linda Faas

The post Mesquite Correspondence – February 2017 appeared first on NevadaGram from the Nevada Travel Network - Telling Nevada's story 365, 24/7.





ONE OF A HANDFUL OF PIONEER farming communities established by the Mormons on the Muddy and Virgin rivers, Mesquite was first settled in 1880, abandoned not long after, and then occupied permanently in 1894.

For its first century Mesquite was a hard-working farm town of considerable reputation in agricultural circles, unknown otherwise.Then in 1980 this sleepy little community two miles west of the Arizona line began to sprout neon, add asphalt and show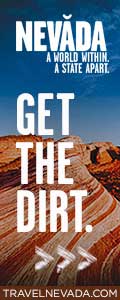 other signs of becoming a new Nevada boomtown. Now, after more than a century of hardscrabble farming and more than two decades in the resort business, Mesquite is proclaiming itself the new — no, not Las Vegas! — Palm Springs.

You'll find casino games and slot machines galore in the large casinos, but in Mesquite the name of the game is golf. Four major league golf courses (so far), one designed by Arnold Palmer, draw golfers from St. George and southwestern Utah. Add to them the Las Vegans who enjoy a respite from the supercharged surroundings of the city, and you've got some serious golfing going on.

The Oasis Resort Hotel Casino, occupies the old Pulsipher Ranch property at the site of a once-famous truck stop, and was for a decade the major casino presence in town, developed by the gambling industry pioneer Si Redd. Alas, it has closed since. Then the Virgin River Casino, where you can also catch a first-run movie, was built at the eastern freeway exit and the boom began to build. In 1995 Players' Island appeared, a 500-room resort with a tropical theme and a full-service spa with mineral water pools, and Merv Griffin as an owner. Merv's gone and it's called The Casablanca now, but the property is even more elegant than before. The Eureka became the fourth of Mesquite's Casino resorts, on the north side of the life-giving freeway. There are modern motels and RV Parks as well.

It's so easy and enjoyable in Mesquite now that it's hard to realize what a struggle life was for the first settlers here. It was so hard, with a miles-long irrigation ditch to be dug by hand, and croplands to be cleared, that after 15 years only one family remained: Dudley Leavitt, his five wives and 51 children. In 1897 five newly-wed couples from Bunkerville joined the Leavitts at Mesquite, erecting a tent to serve as school, church and town hall, with three more long years before the first frame buildings were built.

At the wonderful Desert Valley Museum, on Main Street, you can get a sense of how it was before golf. The small stone building, which has been entered on the National Register of Historic Places, was contructed by the National Youth Administration in 1941, first used as a library, then a hospital, and finally dedicated as the new City of Mesquite's historical museum in 1985. It is something of a community attic, displaying a wide variety of pioneer implements and accoutrements ranging from a Paiute rabbit fur cloak to a 1945 television set, including oddities such as the petrified tree stump with an "egg" in it. What sets the museum apart, though, is the collection of local reminiscence, memoirs, clips and quotes on local history encouraged, collected and maintained by the volunteer staff. They have accumulated a magnificent archive of the pioneer experience, sorted into volumes, and you can browse through it to find stories, some of them typed and pasted in, some of them written out by hand, like these from the volume titled Folklore:

"Soon after I came from my mission the town decided to move the cemetery from the corner of Tobler's field to its present location because of the farmland and ditch. There were three crews working -- one digging up the bodies, one hauling by team and wagon, and one digging new graves and burying the bodies. It took us about three days. My sister Clarissa had twin boys that died at birth and they selected a place in the new cemetery; those were the first graves. Right after that we started moving the bodies from the old cemetery. This experience made me know that the saying "Dust thou art and unto dust shalt thou return" is true. One child had been buried for a couple of years and inside there wasn't a thing but dark fine dust; you could see the print of lace where the hood had been. The child's father felt through the dust and there were no bones. I helped bury that child, so I know it returned to dust. Another father opened the casket of his daughter who had been dead a few months and she looked perfectly normal but when the air hit her she turned dark as coal. He shrank back and said, "Cover it quickly." One boy who had been dead a couple of years had long fingernails and whiskers and hair. One child was just a skeleton, no flesh at all. I had always wondered about the dead, but I saw them in every stage from flesh to dust and I saw all I wanted." — Charles Arthur Hughes, 1905

These remembrances help anchor the luxuries and pleasures of the resorts and the gambling houses in the reality of human experience, and this unpretentious little museum is as wonderful in its way as the new resorts.


Your question about Mesquite?