Nowadays the 33-mile drive to Pyramid Lake from Sparks via Nevada Route 445 (it's 16 miles via Nevada Route 447 from Fernley on I-80) carries you through the slurb spreading north through a succession of shallow depressions between low, brush-stubbled hills. It is a pleasant drive, but long enough to create an awareness of the desert's monotony. After a dozen miles the urban fringe is left behind and when the last rise is topped, the eyesearing expanse of Pyramid Lake stretched out before you is an astonishing sight: a sheet of electric blue cupped between pastel mountains of chalky pinks and greys.
Pyramid Lake is not only quite beautiful, largely undeveloped and thus unspoiled, it is also a significant historical locale and well worth a visit. Fishing, camping and day-use permits are available at the Ranger Station just south of Sutcliffe on the lake's southwest shore, at the convenience stores in Nixon and Wadsworth.
The
Pyramid Lake Paiute Tribe
maintains a Visitor Center with a well-stocked store is located at Sutcliffe on the west shore, as is Crosby's Lodge, a fisherman's clubhouse serving hot food and cold beer.
John C. Fremont was the first American to gaze down at Pyramid Lake, and his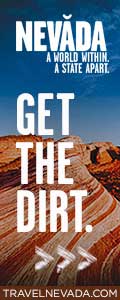 journal entry of 10 January 1844 records his impressions of the lake: ". . . a defile between the mountains descended rapidly about two thousand feet; and, filling up all the lower space, was a sheet of green water, some twenty miles broad. It broke upon our eyes like the ocean."
Pyramid is a favorite hunting ground for the fishermen who wade out deep and cast for trout even in wintry weather. In ancient times this fishery was a magnificent survival resource. For a while, when the first wave of white settlers came, it was big business. Commercial fishermen harvested 100 tons of trout between winter 1888 and spring 1889, for shipment all over the U.S. In 1925 a Paiute named Johnny Skimmerhorn caught the world's record 41-pound cutthroat here.
In May, 1860, a force of 105 volunteers was hastily assembled from Carson City, Silver City, Gold Hill and Virginia City under Major William Ormsby who led them into an ambush about five miles south of the lake. Numaga's Paiute fighters killed more than 70 of the invaders, including Major Ormsby, and the rest ran for their lives. In June a force of regular soldiers attacked and drove the Paiutes away from the lake until an informal truce was effected.
—
from The Complete Nevada Traveler, by David W. Toll