Walter E. Scott, later famous as Death Valley Scotty, spent several of his boyhood years in Wells, arriving on his own at age 11 and supporting himself by a variety of entrepreneurial enterprises, selling sandwiches and doughnuts in the saloons and to railroad passengers with the daughter of a local grocer.
"Sometimes when passengers showed no interest in what Scotty and Katie were selling," wrote Wells historian Gene Kaplan, "they'd wait until the train was about to pull out. Then Katie would cut loose with war whoops. As passengers stuck their heads out of car windows to take a look, Scotty ran by with a stick to knock hats off. The train pulled out with surprised bareheaded passengers, and Scotty peddled hats for two bits each when the next train pulled in."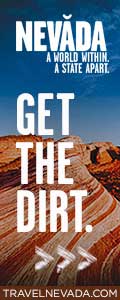 In February, 2008, an earthquake registering 6.0 on the Richter scale rolled beneath Wells and devasted the old commercial center. Injuries were few, a broken arm the worst of it, but the structural damage was an enormous calamity. Many of the buildings along the old Commercial Row were so badly damaged that after standing empty and forlorn for more than five years, they were bulldozed. Ironically, they were as strong a tourist attraction as ruins as they were intact, drawing rubber-necking travelers past the fenced-off row of buildings.
Wells' prosperity today is solidly based on the crossroads created by
I-80
and
U.S. 93
. I-80 is a main east-west transcontinental artery. U.S. 93 extends from Alaska to Panama, and one day you'll be able to gas up at Wells and drive south to Tierra del Fuego. It is a road favored by the Canadian "Snowbirds", the folks who like to follow the sun south for the winter. They come down with the geese in the fall, and they head back home with them to British Columbia, Alberta and Saskatchewan again in the spring.